Flourishing sports betting against the background of an absolute ban on almost all gambling activities – this is Thailand. However, the rapid development of technologies makes it easy for local punters to overcome legislative obstacles and enjoy their favorite pastime to the fullest extent possible. Due to the severe local restrictions, there are no Thai online sportsbooks that operate in the country themselves, but there is a plethora of off-shore and Asian-based operators that accept punters from the country.
As regards the most popular sports to bet on, the preferences of local bettors slightly differ from the ones of the Europeans for example. Here, martial arts (mostly Muay Thai) and golf come to the fore in addition to the traditional favorites soccer and basketball.
Betting on sports in a country like Thailand may be a very complex task. It is important to know all the specifics of sports betting in this region as well as to be able to choose a trusted operator providing you with enough betting markets and promotional offers. We think you will find the current article useful and you will spend some great time betting on your favorite sports.

Legalities of Online Sports Betting in Thailand
Overview
History
Legalization
Software
Historical Betting Overview
Gambling has a long history in Thailand and despite the restrictive and amendable legislation, the locals enjoy this type of entertainment a lot. Sports betting and other gambling activities haven't always been illegal. In the beginning, people used to bet on bullfighting and cockfighting as well as many games introduced by foreign traders.
Although technically forbidden, cockfigting is not prosecuted by the Thai government. According to some local media, the authorities often turn a blind eye on such events and encourage raising roosters in local communities as a form of "extra income".
In 1820, the lottery was introduced in Thailand by some Chinese immigrants. The so-called "huay," was first played within the Chinese community, but quickly gained popularity among the local population.
During the nineteenth century, sports betting started to become more and more popular in Thailand. This was beneficial to the authorities since gambling taxes were a significant source of state revenue. In the first half of the twentieth century, the government decided to establish state-run lotteries and casinos.
At the same time, however, strong anti-gambling sentiment was emerging in the country, and soon most activities in this area were declared illegal. To one degree or another, the situation persists until today.
What You Need to Know about Sports Betting in Thailand
You must be extremely careful if you are in Thailand and want to perform online sports betting. And we are not only talking about the legislative restrictions and the eventual check-ups by the police and other authorities. Well aware of the strong desire for gambling, there are some illegal sportsbooks and casinos that make everything possible to take advantage of inexperienced bettors.
The essential difference between them and the international bookmakers is the principle of operation. The local illegal bookies often work with agents who accept credits and delude punters regarding the payment of winnings.
Considering the above, it is a much better idea to register and place your bets via a foreign online bookie that holds a reliable license. There are some legal sportsbooks that even accept deposits with the local currency Thai baht and provide the full range of betting features. However, don't be surprised if suddenly you cannot access your favorite betting website since the authorities use technical measures in an attempt to limit their operation on the territory of the country.
Paradoxically or not, you do not owe any state taxes on your potential winnings from sports betting in Thailand, simply because you are not supposed to be engaged in such activity.
Odds Format in Thailand
Decimal Odds
Fractional Odds
American Odds
Calculations
Although Thailand is an Asian country, the online bookmakers that operate in the local betting market display odds in decimal format by default. This is the most prevalent odds format in the world, probably due to the fact it is easy to understand even by novices. The decimal odds format shows the ratio between the full payout and the amount you have wagered. If you bet $10 on a particular horse at odds of 2.8 and it takes the first place, you will add $18 to the wagered sum.
As with the other Asian betting markets, in Thai online sportsbooks you can find odds being expressed in Hong Kong, Malaysian, and Indonesian formats. If you are not familiar with these types of odds, you don't need to worry since most bookies have an automatic odds converter that enables you to have odds displayed in any format (including also American and fractional).
Thai Betting Laws and Regulations
It was 1935 when the Gambling Act of Thailand was enacted and since then it is the main state document regulating all betting and gaming activities in the country. Its main principle is that it prohibits any form of gambling except for betting on horse racing at certain legal race tracks and the state-sponsored lottery.
The 1935 Gambling Act of 1935 divides gambling activities into List A and List B. List A comprises bets on games like dog fights and cockfights and also slot machines, poker, and roulette. All the other forms of gambling such as raffles, bingo, and sports betting are in List B. The fines for violations related to List A are 5fold higher than those related to List B and also provide for imprisonment for up to 3 years.
According to the Thailand Civil and Commercial Code, any debt originating from gambling is not enforceable. This means that money given in connection with gambling or betting may not be demanded back since there is no legal ground for the obligation.
Another law related to gambling in Thailand is the Playing Cards Act. It stipulates that you are not allowed to possess more than 120 playing cards unless registered by the Excise Department. At any time of the day, an official is authorized to enter any premise and ensure that there is no illegal possession of cards.
Betting Restrictions in Thailand
There are severe restrictions not only to sports betting itself but also to businesses that just bear a resemblance to gambling. It is a generally accepted principle for brand owners to use short-term lucky draws and giveaways to attract the attention of users. They are perceived as "lot drawing" activities, which fall within the second category of gambling activities under the Gambling Act. Approval by a local authority is possible but it takes so much time that it makes this type of advertising pointless.
The Thai government does not have explicit regulations regarding online sports betting but this does not prevent control bodies from imposing penalties. Usually, the punishment is harsher for the organizers of the relevant illegal activity than for the punters.
There is a way to minimize the risk of paying a fine or getting imprisoned or deported and it is to choose an online sportsbook based outside the country. Thus, you will avoid prosecution and also the risk of being deceived by the illegal local bookmakers we mentioned above.
Online Betting Regulatory Body in Thailand
The Ministry of Information and Communication Technology monitors the internet traffic and has the power to block access to betting platforms from Thailand IP addresses. According to this regulation body, more than 1 $32 million pass through online sportsbooks and casinos every year.
Another obligation of the Ministry of Information and Communication Technology is to analyze telephone call traffic during large gambling events. The law enforcement agencies have a vehement anti-gambling attitude but they are more strictly focused on physical gambling dens that are easier to catch.
One of the few legal ways to perform some kind of gambling activity is the National Lottery governed by the Government Lottery Office that has been active since 1974. Draws are conducted twice a month and there are lottery vendors on streets, markets, and in many villages. Although not as popular and widespread as the lottery, betting on horse races is legal at certain race tracks. This activity is governed by the military police (MP).
Popular Betting Markets in Thailand
Football
Ice Hockey
Volleyball
Baskletball
Having in mind that several international betting operators accept punters from Thailand, the locals can place their bets on thousands of events in any sport throughout the world. The Asian betting market comes with its specifics of course, but what it has in common with the other regions is that soccer is one of the leading disciplines. In addition to the Thai League 1, football fans can wager on matches from the UEFA Champions League, Copa Libertadores, the Premier League, and many domestic leagues and international tournaments.
Thai fans and bettors like many other globally known sports like tennis and basketball. There are practically no limitations as the locally operating online bookies cover events from most of the tournaments and leagues you can think of. If basketball is your favorite, you can bet on the NBA, the FIBA Champions League, the China WCBA, etc.
A lot of online sportsbooks have a martial arts category which sometimes comprises Muay Thai coverage. The sport is hugely popular in Thailand and is often referred to as the national disciple of the country. The fights punters can bet on are mainly from the Rajadamnern Stadium, which is the national boxing stadium established in 1945. What is specific about this betting market is that events happen very often (at least 3-4 days a week) and you can't really plan long-term bets.
Contrary to most online bookies that consider golf more as a niche betting market, the ones that function in Thailand put it in their favorites list. Being an exotic destination and offering no less than 250 golf courses, make the country a preferred choice of many tourists. Thongchai Jaidee contributes to the popularity of golf in Thailand. He has won the Asian Tour 13 times and the European Tour 8 times. Punters can place their bets on these two tournaments as well as on many others including the PGA Championship.
Popular Betting Markets in Thailand Summary
Sport
Leagues
Soccer
Thai League 1, UEFA Champions League, Copa Libertadores, English Premier League, Spanish La Liga, Italy Serie A, etc.
Tennis
US Open, Wimbledon, Roland Garros, Australian Open, Davis Cup, ITF and Challenger tournaments.
Basketball
NBA, WNBA, FIBA Champions League, EuroLeague, China WCBA, etc.
Golf
Asian Tour, PGA Championship, US Open, Joburg Open, Andalucia Open De Espana, etc.
Martial arts
UFC, Rajadamnern Stadium, etc.
Thai Online Betting Bonuses
Promotions
Match Bonus
Free Bets
Enhanced Odds
Thai-friendly online bookmakers usually don't restrict punters in terms of the promotional offers they provide. One of the first things bettors look for in a new sportsbook is its welcome offer. You must always preliminary inform yourself of the wagering requirements, the minimum eligible odds, and if there are restrictions regarding the type of bets, the country of residence, or the payment methods.
The sportsbooks that accept bettors from Thailand often offer 100% deposit matches. This means that if you deposit $20 you will get another $20 to use for betting. Bonus amounts must be wagered a certain number of times before the punter is able to withdraw his winnings.
A great part of the online bookies provide their registered users with different insurance promotions. The main principle here is that if a punter makes a 5-fold accumulator bet for example and only one selection is not successful, he will get some money back in free bets. This and all the other types of promotions are valid for a certain period of time ranging usually between 7 and 30 days.
A lot of sportsbooks try to gain new customers via a promotion called Refer-a-Friend. It comes with different stimuli determined by every bookmaker. Some bookies award you a fixed amount for every friend that registers on the platform and starts betting. Others limit the possible misuse of this promotion by giving you a certain percentage of the first deposit of the new punter. Thus, the more he puts in his account balance, the bigger your bonus will be.
The loyalty programs are an incentive intended to keep the interest of devoted punters. Accumulating comp points for every single bet makes bettors come back again and again. Of course, it is important how hard it is to reach a certain loyalty level and what points can be exchanged for. Usually, these are free bets, participation in limited-access events, boosted odds, or certain bet multipliers.
Mobile Betting in Thailand
Mobile Play
Download App
Browser In-Play
Download via QR
Given the vast interest in betting on sports in Thailand and the rapid advancement of technologies, it would be unthinkable for a modern sportsbook to ignore punters who prefer on-the-go wagering. To have a trouble-free and smooth betting experience regardless of the device used is a mandatory point when choosing a sports betting platform.
The most widely used option is a mobile version of the main bookie's website. The advantage of these in-browser apps is that they do not occupy any space on your smartphone or tablet and hardly ever have any functional differences to the site. The best applications of this kind automatically adapt to the size of your screen so you don't have to do anything else but have fun while betting.
For those who prefer downloadable applications, some top Thai-friendly bookmakers have developed dedicated apps for Android and iOS devices. If the operating system of your mobile device meets the technical requirements, you can download the application from Google Play or App Store free of charge. The best apps don't lack any features and allow you to place in-play and pre-match bets and fund your balance through diverse payment methods.
If you have registered at an online sportsbook via its mobile application, check the Promotions section as some operators provide special bonuses and promotional offers to mobile punters.
Popular Betting Banking Methods in Thailand
Bank Transfer
Credit Cards
E-Wallet
Prepaid Cards
Given that any gambling activity in Thailand is practically banned, you must be very cautious when funding your account balance. Many punters prefer using credit and debit cards because they are used to this payment method in their daily lives and online transactions are quite fast. If you are such a bettor, we advise you to avoid using a card issued by local banks like Bangkok Bank, SCB, and Kasikornbank since they tend to block transfers to online sportsbook accounts.
Although electronic payments are on the rise all over the world, traditional bank transfers are still the most popular payment method in Thailand. The main disadvantage is that you may have to wait 5 business days before money effectively enters your account. On the other hand, bank transfer withdrawals are considered as one of the safest options available. Keep in mind though that you may face some issues if the bank thoroughly checks the money origin.
We can safely say that the most easy-to-use method to top up your account balance in a Thai online sportsbook is via an eWallet. The most popular options are Skrill, Neteller, and ecoPayz, all allowing instant deposits and relatively fast withdrawals. Most online bookies don't charge you extra for this type of transaction. However, this is not mandatory and in some rare cases, you may incur transaction fees of up to 5%.
Fortunately, a great part of the online sportsbooks that operate in Thailand, accept locally popular payment solutions with one of the most commonly used being TrueMoney. Transaction limits differ from one bookie to another but most often you cannot transfer more than ฿100,000 (≈ $3,000).
Popular Banking Methods in Thailand
Payment Method
Fees
Deposit Limits
Deposit Times
Withdrawal Limits
Withdrawal Times
Credit & debit cards (Visa, Mastercard)
1-10%
Min $10/Max $30,000 per transaction
1-3 business days
Min $10/Max $30,000 per transaction
2-5 business days
Bank transfers
Varies
Min $10/Max $8,000 per transaction
1-3 business days
Min $10/Max $8,000 per transaction
2-5 business days
Skrill
Up to 5%
Min $10/Max $38,000 per transaction
Instant
Min $10/Max $38,000 per transaction
Up to 48 hours
Neteller
Up to 2.99%
Min $20/Max $50,000 per transaction
Instant
Min $20/Max $50,000 per transaction
Up to 48 hours
ecoPayz
0-6%
Min $10/Max $30,000 per transaction
Instant
Min $10/Max $30,000 per transaction
Up to 48 hours
TrueMoney
Free
Min $10/Max $3,000 per transaction
Instant
Min $10/Max $3,000 per transaction
Instant
Cryptocurrencies
0.05-5%
Min $10 per transaction
Instant
Min $10 per transaction
Up to 48 hours
What to Watch When Picking Thai Betting Site
We already mentioned that the safest way to perform sports betting in Thailand is by using a foreign-based sportsbook. This means that there are no local licenses you must look for but rather ones issued by a foreign government authority, with those of the UK and Malta being the most famous.
There are several other factors you better consider before selecting a sports betting platform. Although welcome bonuses can be very lucrative, ongoing promotions and free bets are more important if you intend to stay for long. The top sportsbooks let you gain different prizes and incentives during your everyday betting experience. An advantage would be if the bookie offers an early cash-out feature that lets you guarantee some winnings and limit your eventual losses.
As the main goal of sports betting is primarily entertainment, the market range is of great importance. If you are an avid fan of Ronnie O'Sullivan for example but the online bookie has scarce snooker betting options, it's not worth spending your time there. Whether it is soccer, basketball or tennis, we advise you to check which leagues and competitions are supported before you deposit and start wagering.
And speaking of deposits, it is crucial for the sportsbook to provide the payment method you are most familiar with. A great part of the online bookies accepts credit and debit cards, online bank transfers, and eWallets. From local bettors' point of view, it is an advantage if the bookmaker supports transactions with Thai baht, although it is not that decisive since betting platforms usually implement automatic currency conversion.
10 Best Betting Sites in Thailand
Now, when we have covered all important aspects of online sports betting in Thailand, we will focus on the top 10 betting operators that accept Thai bettors. Keep on reading and find the sportsbook that best meets your criteria.
Dafabet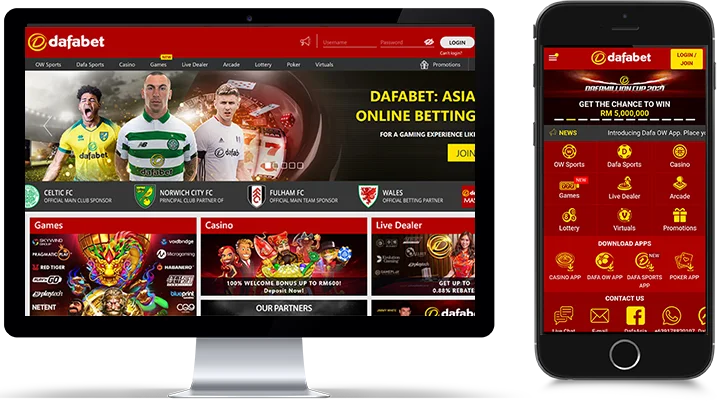 Dafabet is one of the most popular online sportsbooks on the Asian betting market. Starting as a small local bookie, this platform evolved over time and is gaining users from different parts of the world. Dafabet is an official partner of the basketball Euroleague and has also sponsorship agreements with Celtic FC, Santos F.C., S.E. Palmeiras, and some other soccer teams.
The online sportsbook features many events in a diverse sports selection, with the most popular disciplines being cricket, soccer, tennis, and Basketball. The website has 16 language versions impressing with a variety of Asian options, including Thai.
It is a good move of Dafabet that it accepts a wide selection of payment methods, which are tailored to the requirements in different countries. Punters can choose from a whole bunch of online banking services, eWallets, prepaid cards, and cryptocurrencies. Traditional bank transfers and credit & debit cards are also available.
Various betting markets
Multiple payment methods
Several Asian languages
24/7 customer support
Downloadable mobile applications
A long list of restricted countries
Currency restrictions on some bonuses
Limits on live streaming
Nowbet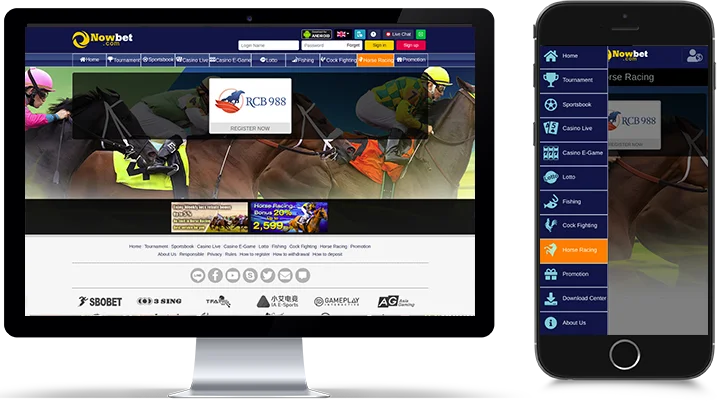 Established more than 10 years ago, Nowbet has earned a reputation as one of the most reliable sports betting platforms in Asia. The bookmaker is strongly oriented to the Asian market as among its most popular disciplines you can find cockfights and horse racing.
While there is a native mobile application for Android devices, such an option is not provided to iOS users.
Nowbet's main downside is that it supports a very limited set of payment options, which greatly limits the choice punters have. At least we can say that although being just a few, the available deposit and withdrawals methods are fast and comprise many local currencies including the Thai baht.
This online bookie provides its registered users with diverse bonuses and promotional offers. What is specific to Nowbet is that it has separate rebate and reload promos for horse racing and cockfighting.
A decent selection of sports popular in Asia
Multi-channel customer support
Fast withdrawals
Diverse promotional offers
Detailed FAQ section
Many restricted countries
Limited payment options
No iOS mobile application
BetObet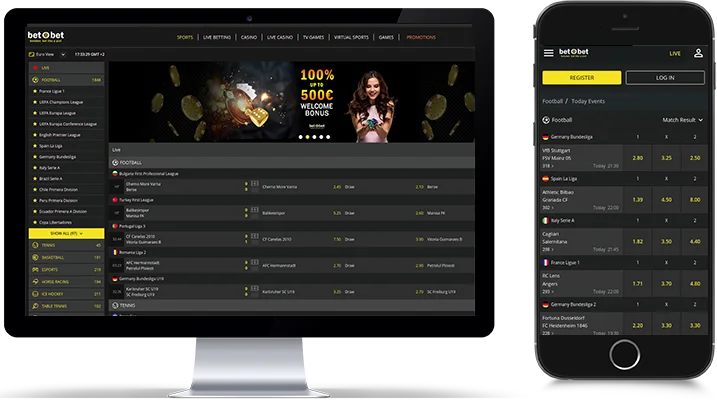 BetObet is one of the new players on the sports betting scene. However, it offers a set of features that we usually see at experienced bookmakers. The bookie entices punters with different promotions leading to high maximum prizes. If you intend to use any of the bonuses, read the terms and conditions first, as rules are quite complex.
The selection of sports provided by BetObet may not be the most abundant one you have seen, but the leagues' coverage of the available disciplines is very good. Around 60 domestic leagues are featured in the soccer section together with the UEFA Champions League, the UEFA Europa League, Copa Libertadores, FIFA World Cup, etc.
The betting website can be explored in 10 different languages and punters can choose between decimal, fractional, American, Hong Kong, Malaysian, and Indonesian odds formats. Punters can reach the 24/7 customer support via live chat, email, and phone.
Generous welcome offer
Huge soccer section
24/7 customer support
Multilingual web interface
Six odds formats
No live streaming
Scarce choice of niche sports
Complex rules of some promo offers
Pinnacle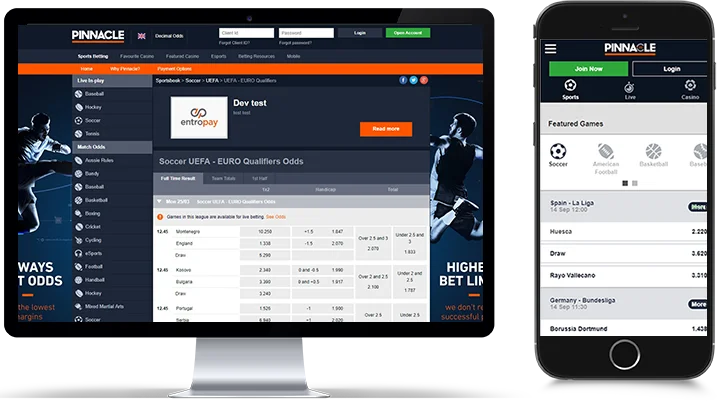 Pinnacle is one of the few online sportsbooks that acclaims successful bettors and therefore is a favorite destination of many professional punters. The two main principles of this bookie's operation are "winners are welcome" and the arbitrage-friendly approach.
Pinnacle provides its registered punters with hundreds of events in a wide array of sports including soccer, American football, basketball, MMA, biathlon, snooker, and many others. The sportsbook has an excellent eSports section with a lot of betting markets in CS:GO, King of Glory, League of Legends, Dota 2, StarCraft2, Rainbow Six, Valorant, Warcraft 3, etc.
Punters at the Pinnacle sportsbook are allowed to use diverse payment methods. Just a few of them are credit and debit cards (Visa & Mastercard), Skrill, Neteller, Paysafecard, Sofort, AstroPay, and Bitcoin. It is a little disappointing though the bookie has a 15$ fee on most withdrawals. On the other hand, Pinnacle allows for high maximum withdrawals reaching $60,000 via Skrill.
Various payment methods
A great eSports section
Fast withdrawals
Provides teaser bets
Available in 15 languages
No welcome bonus
Doesn't provide live chat
Fees on some deposits and withdrawals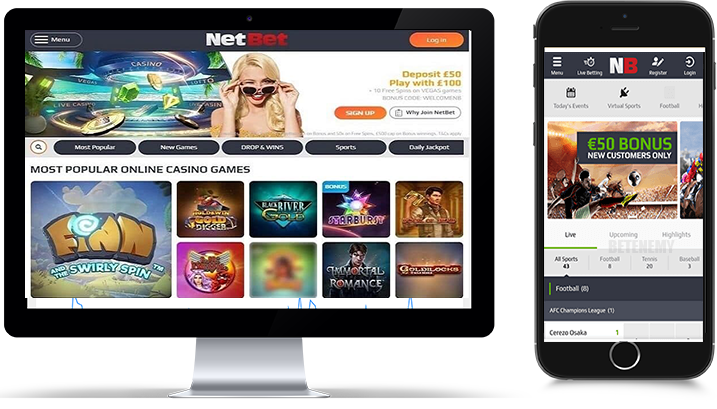 NetBet is a safe sports betting place that has become a favorite destination of many bettors. The bookie provides around 35 sports for punters to bet on, including the Asian popular horse racing, martial arts, badminton, and golf. The discipline with the highest number of betting markets is soccer where bettors can wager on matches from over 60 domestic leagues as well as the World Cup, Copa Libertadores, and some more.
When you register and start betting on NetBet, you will face some enticing features. There is an Add2Bet function, which allows punters to add selections to their bet slip without having to place a new wager. You can also use the BetMaker that enables bettors to include several betting markets from a certain event into one accumulator.
The NetBet online sportsbook supports multiple payment methods with some of them depending on the country of residence. These include Visa, Mastercard, Neteller, Skrill, Paysafecard, WebMoney, Trustly, Euteller, PayPal, etc. Keep in mind that the bookie has a withdrawal fee for all amounts exceeding $500.
Vast selection of sports events
Cash-out feature
Various payment methods
Exhaustive statistics section
A reliable license
Fees on withdrawals of $500 or more
Customer support is not 24/7
Slow verification procedures
188Bet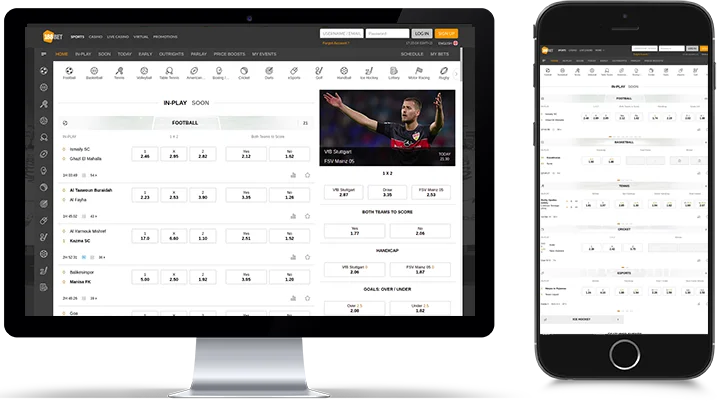 188Bet is an attractive online sportsbook that is one of the most popular on the Asian market. It has expanded its operation to Europe with the goal to become a global brand. This is evidenced also by the fact that 188Bet is the official Asia partner of two big names in soccer – Liverpool and Bayern Munchen.
This bookmaker does not boast a great variety of sports disciplines punters can place their bets on. If you are a soccer fan, however, you will surely like 188Bet as it provides extensive coverage of events from most major international tournaments as well as domestic championships. The bookie has a separate section for the top Asian matches every day where punters can place different bet types – Handicaps, Goals Over/Under, Correct Score, Both Teams To Score, Double Chance, Clean Sheet, etc.
Apart from Skrill, Neteller, and ecoPayz, the sportsbook accepts some Thai banking methods, which is well perceived by the local bettors. For their convenience contributes also the fact that customer support is available 24/7 via live chat, email, and phone.
Decent welcome bonus
Great soccer coverage
Local Thai payment methods
Downloadable apps for Android and iOS
Customer support around the clock
No loyalty program
No live streaming
A long list of restricted countries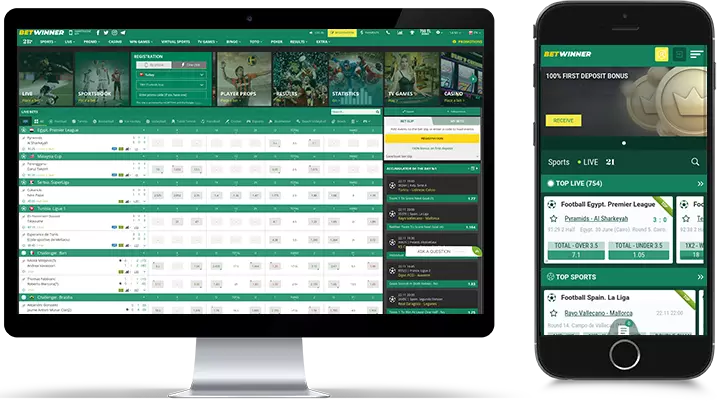 Thai bettors who want to have a diverse choice of international sports and various bet types must try the Betwinner online sportsbook. This is a real global brand providing thousands of events in more than 40 sports ranging between soccer, basketball, tennis, cricket, ice hockey, horse racing, badminton, and many others. On the other side, Betwinner has a separate Muay Thai section that far surpasses the coverage provided by many Asia-oriented sportsbooks.
The Betwinner online sportsbook is a mobile-friendly betting platform available as dedicated applications for Android and iOS devices, and also an optimized mobile site. The bookie has some specific features as Betconstructor, Bet Slip Sale, and the Betting Exchange that help punters make their betting experience more interesting and profitable.
Betting via a global brand like Betwinner has many advantages. One of them is the great diversity of payment methods which reflect your preferences no matter which country you reside in. Thai punters can use Sticpay, Neteller, Skrill, Perfect Money, AirTM, ecoPayz, as well as almost 40 cryptocurrencies.
Numerous betting markets
Various payment methods
Fast withdrawals
Live streaming
Available in more than 60 languages
Some promotions are currency restricted
Too sharp with successful bettors
The main page is quite overburdened
Melbet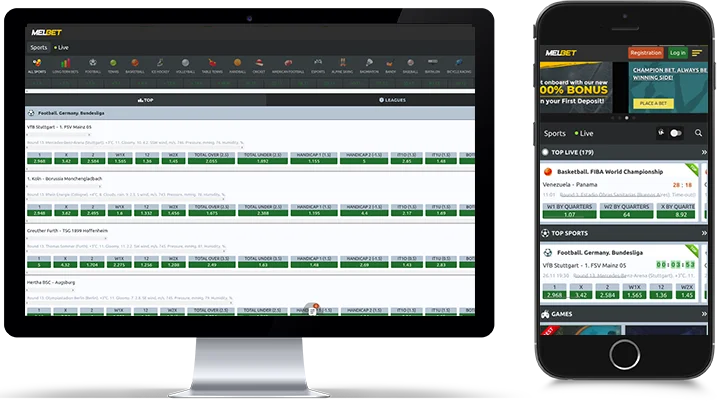 The Melbet sportsbook has an Eastern European background but strives to attract as many international punters as possible. It can be accessed from several Asian countries and has also official permission to operate in Nigeria and Kenya.
The online sportsbook features an easy-to-use layout and can be explored in more than 40 languages including English, Spanish, Italian, and French. Punters can enjoy a nice in-play section with hundreds of events every day. One of the greatest features offered by Molbet is high-quality live streaming which enables you to watch plenty of matches in the Premier League, La Liga, Serie A, and some others.
Melbet supports most payment methods you can think of and allows for fast withdrawals with no additional transaction fees. Minimum deposit and withdrawal amounts range between $1 and $10. In case punters experience any difficulties they can contact the customer care team via live chat, email, and phone.
Great selection of sports
Great horse racing section
Multi live feature
Fast withdrawals
Dedicated mobile apps for Android and iOS
No Skrill and Neteller transactions
Absence of sport-specific promotions
No Bet Builder feature
Marathonbet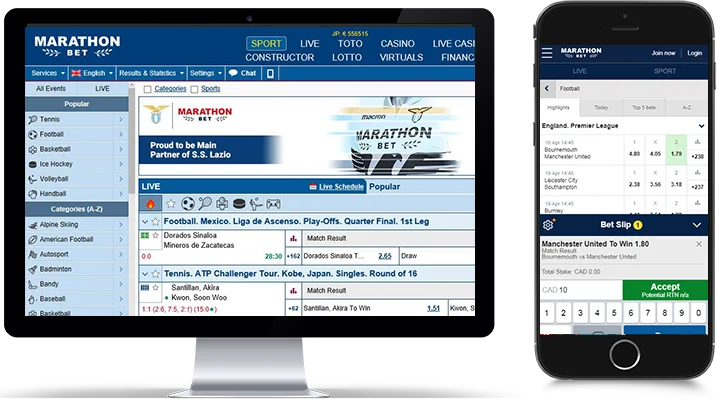 Marathonbet is an international sports betting brand holding licenses issued by the local gambling authorities of Curaçao, Spain, Italy, and Belarus. Punters who access the sportsbook can switch between Asian, European, and Multimarkets views as well as decimal, fractional, American, Hong Kong, Malaysian, and Indonesian odds formats.
This online bookie provides its registered punters with a diverse selection of sport disciplines with adequate coverage of major and less famous leagues and tournaments. The live Marathonbet live section features many events in soccer, horse racing, ice hockey, eSports, tennis, basketball, volleyball, snooker, etc.
We were disappointed to find that Marathonbet currently has no welcome bonus which is a phenomenon rarely observed in nowadays online sportsbooks. The bookie's patrons can participate in its loyalty program and benefit from the Cash-Out and Edit Bet features.
Marathonbet website and mobile applications are available in more than 20 languages. The friendly customer support team is available 24/7 through live chat, phone, and email.
More than 30 sports available
Significant live section
Various payment methods
BetConstructor feature
Loyalty program
No welcome bonus
Layout is a little old-fashioned
Transaction fees for some methods
Sportaza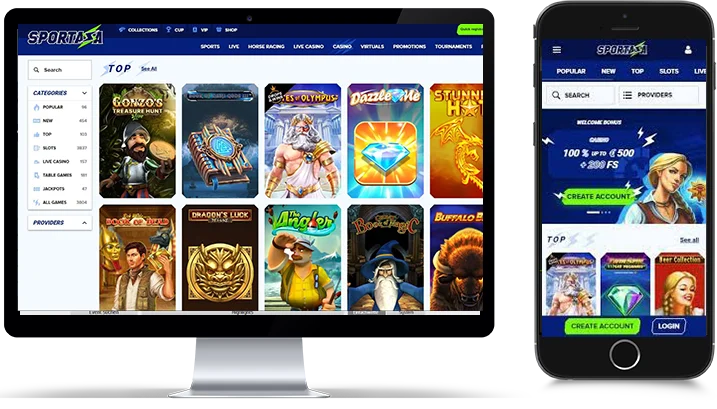 Established in 2020, Sportaza is still considered a novice on the sports betting market with the ambition to become a top-rank betting brand. However, it offers most of the features provided by long-term online sportsbooks. The customer care service is available via live chat, email, and phone.
The diversity of the supported payment methods is enough to satisfy most types of bettors. They can choose between Mastercard and Visa bank cards, Skrill, Neteller, ecoPayz, MuchBetter, AstroPay, Neosurf, cryptocurrencies, and some locally available banking methods.
Sportaza is another online bookie where soccer is the leading discipline punters can place their bets on. There are 200+ football markets in the pre-match section with Cards, Corners, Asian Handicaps, and Player Specials being just a few of the options. As regards the Cash Out feature, it is available only in its full form and is accepted till a late stage of the relevant event.
Diverse betting markets
Multiple payment methods and currencies
Decent selection of promotional offers
Bet Builder available
24/7 customer support
No mobile applications
Slow verification procedures
Low maximum transaction limits