Situated in South-East Asia, the territory of Malaysia is separated by the South China Sea into two main regions-Peninsular Malaysia and Borneo's East Malaysia. A former colony of the British Empire, the country achieved independence from it in 1957. Malaysia is characterized by its rich culture and scenic landscapes, as well as diverse ethnic groups.
Malaysia's population is currently approximately 32 million people and it is of multi-ethnic background. Islam is the predominant religion within the country, with 61% of the population being Muslim. Gambling is illegal and forbidden under Islamic law. However, the rest of the ethnic groups are allowed to engage in legally-operated gambling activities. Due to the dualistic nature of the Malaysian justice system, gambling's status is complicated and we are going to further clarify which forms are legal and which are not.
Both the legal and illegal forms of gambling are extremely popular in Malaysia, with sports betting occupying a top position. Lotteries, casino games, and horse racing are legal in Malaysia, while sports betting and online gambling as a whole are not. There is only one brick-and-mortar casino in the country, which operates round the clock and is renowned for its exclusively attractive exterior and a lush interior.
The popularity of sports betting in Malaysia has been constantly on the rise and Malaysians are avid fans of football and badminton. Offshore betting sites are providing them with innumerable possibilities to place wagers on their favorite disciplines, as well as many other bet markets. It is our goal to provide a reliable source of information on the legal aspect of sports betting, the odds, bonuses, payment methods, and online suppliers with regard to Malaysia.
Legalities of Online Sports Betting in Malaysia
Overview
History
Legalization
Software
Historical Betting Overview
Betting in Malaysia is tightly intertwined with its history, the influence of colonial powers, and the religious beliefs of its ethnic groups.
Initially, the dominating religions in the Malay Peninsula were Hinduism and Buddhism, and although Muslims passed through the territory in the 10th century, it was not until the 14th century when their influence became prominent. The lands of present-day Malaysia were captured by Portuguese and Dutch colonists in the 16th and 17th centuries. Ultimately, it was the British who succeeded in securing lasting domination over the Malaysian territory.
The British colonists were the ones who introduced horse races and horse racing bets and made them extremely popular in the country. In their turn, horse racing bets gave rise to the development of other sports betting activities.
It is widely believed that many forms of gambling were introduced to Malaysia also by Chinese merchants in the 19th century. It was not long before gambling gained widespread acceptance by the local inhabitants.
The only land-based casino that is operating legally in Malaysia was opened as a result of a request by Malaysian conglomerate "Genting Group" to the Prime Minister in 1969. The leader granted his approval of the initiative and in 1971 the casino started operating. As per the laws in Malaysia, the gambling establishment refuses entry to Muslims and all citizens below 21 years.
What You Need to Know about Sports Betting in Malaysia
As per the Betting Act of 1953, gambling in the only land-based casino in Malaysia is legal. The act has been subjected to several amendments over the years, with the last one being passed in 2006. According to the act, those who violate it and provide gambling services face a punishment that may be a fine or imprisonment for up to 6 months. In some cases, both punishments have been imposed.
Muslims are prohibited from taking part in whatsoever kind of gambling activity, while the rest of Malaysia's population is allowed to place sports bets on horse racing, provided by authorized racetracks. Currently, there are three horse racing tracks in Malaysia that are legally operating and allow Malaysian citizens to place wagers.
Although not tolerated by the law in the Asian country, online sports betting becomes more and more popular, and as it turns out Malaysian punters are welcomed by many global sports betting operators. Malaysians are fervently interested in football, with the English Premier League being their number one championship. Badminton is a low-key sport in most parts of the world but its popularity in Malaysia is huge, both in terms of spectators and players. Ultimately the online sports betting market in Malaysia remains unregulated at present.
Odds Formats in Malaysia
Decimal Odds
Fractional Odds
American Odds
Calculations
The majority of the top 10 global sports betting operators that we have selected utilize predominantly three main odds formats – the Decimal, Fractional, and American ones. However, there are also other odds formats and one of them is the Malay odds format.
Malay odds can be either positive or negative and they do not exceed 1.00. Positive odds reflect chances of success going over 50%, while negative odds express a probability that is below 50%.
The formula to calculate a potential payout in the Malay odds format involves multiplying the stake by the odds in cases when the odds are positive. If the odds are negative, punters should divide their stake by the odds in order to calculate their potential winnings. For instance, a stake of $100 at odds of 0.80, might deliver bettors with a profit of $80.
However, as already mentioned, it may be challenging for Malaysian bettors to find a bookie that expresses odds using the Malay format. That is the reason why many Malaysian punters utilize the Decimal odds format.
Similarly to the Malay odds format, the Decimal one involves multiplying the staked amount by the odds in order to calculate the potential payout. Thus, a stake of $100 at Decimal odds of 1.80 would generate potential winnings of $180. It is important to note that the final payout of Decimal odds includes the initial stake.
Malaysia's Betting Laws and Legislation
Malaysia has three major pieces of legislation with respect to gambling: the Betting Act of 1953, the Common Gaming Houses Act of 1953, and the Shariah law.
The Betting Act came into force on October, 15th, 1953, and its territorial extent includes the whole country. Its main purpose was to suppress the betting establishments and betting activities in public places. The Betting Act has been amended several times, and the last modification took place in 2006. Basically, this act prohibits all forms of gambling, with the exception of companies that have a legal license to carry out gambling-related services.
The Common Gaming Houses Act was first enacted in the same year as the Betting Act-1953. It was amended in 1983. This piece of legislation is more comprehensive than the Betting Act, in respect of the types of gambling that are covered. The Common Gaming Houses Act provides a definition of 'gaming', and includes all games of chance or games of chance and skill, involving money.
The third piece of legislation in respect to gambling and sports betting in Malaysia is the Shariah law. It is a religious law based on the major principles of Islam. Since more than half of the Malaysian population (61%) is of Islamic background, the Sharia law is recognized throughout the country. Under this law, Muslims are not allowed to practice all forms of gambling-related activities. The law, however, does not bind non-Muslim citizens.
There are also two additional legal frameworks in Malaysia referring to betting activities. The first one relates to racecourses and this is the Racing (Totalizator Board) Act of 1961. It regulates the three privately-owned racecourses in Malaysia. The other one is the Lotteries Act of 1952, relating to lotteries.
Malaysia Betting Restrictions
As per Malaysian laws, Muslims are not allowed to gamble. Another major restriction in the south-east Asian country relates to the legal age for engaging in legal gambling activities. Unlike most parts of the world, it is not 18 years. Malaysian citizens of non-Islamic background are allowed to gamble when they reach the age of 21.
In accordance with the Betting Act of 1953, those individuals who are caught operating an illegal betting establishment will be punished with a fine amounting to RM 200,000.00 and imprisonment for up to 5 years.
The Minister of Finance in Malaysia submits the federal budget to the Parliament each year in the autumn. In 2020, the then-Finance Minister introduced an increase in punishments relating both to citizens who gamble illegally and to operators not abiding by the law.
The single land-based casino in the country gained its license in 1971 by Prime Minister Tanku Abdul. Over the years the casino moved to different locations in the resort and since 2004, it is located in First World Hotel. Under the provisions of the Sharia Law, Muslims are prohibited from entering the only legal casino in the country and from engaging in any kind of betting activity.
In 2003, the Malaysian authorities took the decision to refuse licenses to other casinos, thus leaving Casino de Genting the only legal gambling venue in the country. The other exceptions are 6 privately-owned lotteries and 3 horse racing tracks that are granted legal permits to operate.
Online Betting Regulatory Body in Malaysia
Online betting is not legal in Malaysia and consequently, it is not regulated. The main authority which is in charge of granting permits to legal betting venues is the Unit Kawalan Perjudian (Betting Control Unit), acting under the jurisdiction of the Ministry of Finance.
Apart from the six privately owned lotteries and the various casino games available in Resorts World Genting, there are three racecourses on the territory of Malaysia where pari-mutuel betting on horse racing events is legal. Those racecourses operate under the provisions of the Racing Act of 1961.
The three legal venues for horse racing wagers are located in Peninsular Malaysia and they are the Penang Turf Club, the Perak Turf Club, and the Selangor Turf Club. These three clubs are the legal establishments where Malaysian bettors may participate in sports betting and place legal wagers on horse racing.
The horse races are carried out and regulated by the Rules of the Malayan Racing Association and the relevant betting activities are supervised by the Pan Malaysian Pools Sdn Bhd. Horse racing has become an integral part of Malaysian culture and contributes a great deal to its economy.
Popular Betting Markets in Malaysia
Football
Cricket
Rugby
Tennis
Malaysia has organized a number of significant sports championships, including the Commonwealth Games in 1998. Malaysians are fond of various disciplines and sports betting's popularity is constantly rising.
Football almost always occupies the number one position when it comes to examining different countries' top betting markets, and Malaysia is not an exception. The Football Association of Malaysia joined the Asian Football Confederation in 1954.
Using the offshore sports betting platforms, Malaysian punters can place bets on the top-tier men's professional football league in their country – the Malaysia Super Liga. Other native championships include the Malaysia Premier League and the Malaysia FA Cup. The opportunities for bets on other local and international championships are endless, but Malaysians' favorite foreign contest is the English Premier League.
Badminton may be perceived as a low-key discipline around the world but in many Asian countries, and especially Malaysia, it is thriving. This is predominantly due to the success of native star players. Lee Ching Wei, a Malaysian former badminton player was ranked first in the world for 349 weeks.
The premier badminton league in Malaysia is the Malaysia Purple League. Malaysian punters can also join the betting action in other Asian badminton championships such as the China Badminton Super League, the Superliga Badminton Indonesia, and the Premier Badminton League (India), which is considered to be the highest-ranking badminton event in the world. Malaysia-friendly bookmakers offer a variety of badminton bet types such as match winner, win the set, even/odd, handicap, etc.
With over 41,000 registered players, rugby is also very popular in Malaysia. Malaysia Rugby League Premier is the top rugby union league in the country and it is organized by the Malaysian Rugby Union. Malaysian bettors may also opt for games from the English Premiership Rugby League, and choose among moneyline bets, handicap betting, outrights, and proposition bets.
The next discipline that is widely favored by Malaysians is tennis and the Lawn Tennis Association of Malaysia is the governing body for this sport. Some of the major tennis leagues within the country are the Malaysian Open and the Kuala Lumpur Men Tennis League. As for the types of bets that punters will find in Malaysia-friendly sportsbooks, moneyline bets, over/under, and props are all very popular, as well as the in-play bets.
Malaysia has a very rich horse racing history, as the sport was popularized by British merchants back in the 1800s, and presently it is the only discipline providing opportunities to Malaysian bettors for legal wagering in three privately-owned turf clubs. The first club to open in Malaysia was the Penang Turf Club, followed by the Perak Turf Club, and the Selangor Turf Club. The most prominent horse racing championships include the Perak Coronation Cup, as well as the emblematic Selangor Turf Club Triple Crown race series.
Popular Betting Markets in Malaysia Summary
Sport
Leagues
Football
The Malaysia Super League; the Malaysia Premier League; Malaysia FA Cup League; the AFC (the Asian Football Confederation) Champions League; the English Premier League; UEFA Champions League; UEFA Europa League; the FIFA World Cup, etc.
Badminton
The Malaysia Purple League; the Premier Badminton League (India); the China Badminton Super League; the Superliga Badminton Indonesia, etc.
Rugby
Malaysia Rugby League Premier; Malaysia Rugby League Division 1; Malaysia Rugby League Division 2; Premiership Rugby; European Rugby Champions Cup; European Rugby Challenge Cup, etc.
Tennis
The Malaysian Open; Kuala Lumpur Men Tennis League; the ATP Cup; the Wimbledon, etc.
Horse racing
The Perak Coronation Cup; The Selangor Turf Club Triple Crown race; Tunku Gold Cup (G1); Selangor Gold Cup (G1); Piala Emas Sultan Selangor (G1), etc.
Malaysia Online Betting Bonuses
Promotions
Match Bonus
Free Bets
Enhanced Odds
The top-rated bookmakers accepting Malaysian punters treat them to a number of bonuses and promotional offers. They tend to vary from sportsbook to sportsbook, and we are going to list some of the most common incentives that are readily available to Malaysian bettors. Sign-up offers are typically presented as a free bet or a welcome bonus, making up a percentage of the first deposit.
Welcome bonuses are designed particularly for freshly-registered punters. As soon as they top up their accounts for the first time with the required minimum amount, bookmakers match those payments at a pre-defined percentage. It may equal for example 50% or 100% from the deposited amount.
Such incentives are typically accompanied by rollover requirements, also known as wagering requirements. They necessitate wagering the bonus amount a certain number of times. Malaysian punters should also bear in mind that welcome bonuses are valid for a certain timeframe. They need to wager the bonus within a given amount of time, otherwise, it will be forfeited.
Free bets involve depositing funds into the punter's account and wagering a certain amount on predetermined sports markets. Bookmakers also state the minimum eligible odds requirements that must be adhered to in the terms and conditions of their promotional offer. Once the qualifying bet is settled, the free bet will be credited to the bettor's account. Much like welcome bonuses, free bets also have expiration dates. Free bets cannot be withdrawn in the form of money, only the potential winnings proceeding from them are withdrawable.
Bookmakers serving Malaysian sports betting fans very often offer odds boosts that are limited to a certain period of time and usually cover sports events of great prominence. Under this promotion, punters are treated to enhanced payouts for certain bet types that turn out to be winning.
Accumulator bonuses also referred to as ACCA insurance return a certain percentage of a losing stake to bettors who have selected this promotion. ACCA bonuses are targeted at particular markets and punters should make several selections (the minimum is usually 3-5) within those markets. If a single selection turns out to be losing, those bettors will be eligible to receive part of their stake back. The relevant conditions of ACCA bonuses usually state the required minimum odds and stakes for the selections.
Mobile Betting in Malaysia
Mobile Play
Download App
Browser In-Play
Download via QR
The top-rated sportsbook platforms serving the Malaysian market deliver a flawless betting environment across desktop and mobile devices. With a reported 87.61% share of the Malaysian population owning a smartphone in 2020, mobile betting in the south-east Asian country is quite popular.
Some of the bookmakers develop their native mobile apps that can be downloaded from their websites. Those applications ensure a fluid betting experience, allowing punters to enjoy all of the exhilarating functionalities of the sportsbook.
Other bookmakers rely on web-based apps that are accessible from the browser of your mobile device. Unlike Android and iOS apps, the web-based apps of sportsbooks do not entail system requirements but tend to have slower loading times.
Punters are able to transfer funds to their accounts, claim bonuses, and browse through the sportsbooks' catalogs with just a few taps on their mobile devices.
Overall, contemporary Malaysia-friendly sportsbooks have taken the necessary efforts to make sure that mobile betting delivers the same pleasant and potentially rewarding betting experience like the one on desktop devices.
Popular Betting Banking Methods in Malaysia
Bank Transfer
Credit Cards
E-Wallet
Prepaid Cards
Malaysian punters should familiarize themselves with the specifics of the banking methods utilized for deposits and withdrawals for the sake of a problem-free betting experience. Deposit and withdrawal limits vary across different bookmakers and punters can check them in the cashier section of the relevant provider.
Starting with payments and withdrawals via Mastercard and Visa cards, it is safe to say that many users prefer them due to the reliability and worldwide acceptance of the brands. Making deposits via debit and credit cards is a simple and familiar method to most users. Once bettors have registered with a certain sportsbook, they need to head to the cashier section and opt for the payment method. Such deposits are processed instantly, while withdrawals may take around 1-3 business days.
A growing number of sportsbooks provide Malaysian punters with the opportunity to manage their banking via cryptocurrencies. The method is preferred by many due to the unrivaled levels of anonymity of the banking and personal details, the swift deposits, and the lack of processing fees.
Some of the major factors impacting the increasing usage of e-wallets as a preferred payment method by punters are the security and swiftness that they feature. Deposits are conducted immediately, while withdrawals require between 24 and 48 hours.
Paysafecard is a pre-paid method allowing for risk-free online payments and it is accepted all over the world. It can be utilized for deposits without the need to expose personal information or bank details. The only information that bettors are supposed to enter is the 16-digit code of the card. It should be noted, however, that this method is not always supported for withdrawals.
Other methods at the disposal of Malaysian punters are EeziePay and Help2Pay.
Popular Banking Methods in Malaysia
Payment Method
Fees
Deposit Limits
Deposit Times
Withdrawal Limits
Withdrawal Times
Mastercard
Depends on the betting site
Min $10,00 Max $50,000.00
Instant
Min $10,00 Max $4,000.00
1-3 business days
VISA
Depends on the betting site
Min $10,00 Max $50,000.00
Instant
Min $10,00 Max $4,000.00
1-3 business days
Bitcoin
No fees
Min $10,00 Max $100,000.00
Instant
Min $10,00 Max $4,000.00
Up to 48 hours
Ethereum
No fees
Min $10,00 Max $100,000.00
Instant
Min $10,00 Max $4,000.00
Up to 48 hours
Neteller
No fees
Min $10,00 Max $50,000.00
Instant
Min $10,00 Max $4,000.00
Between 24-48 hours
Skrill
No fees
Min $10,00 Max $50,000.00
Instant
Min $10,00 Max $4,000.00
Between 24-48 hours
Paysafecard
No fees
Min $10,00 Max $50,000.00
Instant
N/A
N/A
EeziePay
Depends on the betting site
Min $10,00 Max vary across sportsbooks
Instant
Min $10,00 Max vary across sportsbooks
Between 24-48 hours
Help2Pay
Depends on the betting site
Min $10,00 Max vary across sportsbooks
Instant
Min $10,00 Max vary across sportsbooks
Between 24-48 hours
What to Watch When Picking a Malaysian Betting Site
Security
Customer Support
Mobile Compatibility
In-Play Betting
In case you are intent on finding Malaysia-friendly sports betting operators by yourself, you should conduct an in-depth search and thorough analysis of the available options.
Malaysian punters should narrow down their search to bookmakers that accept betting action from Malaysia. This information is typically present in the terms and conditions section of the bookie. They usually tend to enumerate the jurisdictions where they do not offer their services.
Global sports betting platforms usually provide the logos of the licensing institutions on their home pages. Thus punters may get the relevant information regarding the regulatory body that has issued the license.
Other important aspects to take into consideration are the supported currencies and payment methods. Some of the online bookmakers offer using Ringgit, thus saving their Malaysian registrants undesirable currency conversion expenses. As for the payment methods, it is a good idea to verify if withdrawals can be conducted via the method used for deposits.
Bettors should also pay special attention to the section dedicated to bonuses and promotions in order to make sure that their betting experience has the potential for a rewarding outcome. The terms and conditions that are usually accompanying the promotional offers should be subjected to a careful investigation to assess their feasibility and competitiveness. Another step closer to a lucrative betting experience would be to check the sportsbook's odds and compare them to those of other operators.
The diversity of sports markets to bet on is another major feature of top-notch bookmakers. Punters should be able to easily find their preferred markets and the relevant championships that stir their interest the most.
Just as important is the customer support service. Preferably, sportsbooks should be able to deliver help and support round the clock through a variety of channels such as telephone, live chat, e-mail, and even call-back request features.
Best 10 Betting Sites in Malaysia
While Malaysian bettors may perform a search of the 10 leading sports betting operators by themselves, we would like to present them with our own guide, consisting of renowned brands that have proven their potential and value. We bring to the punters' attention some important aspects such as market diversity, in-play options, odds and promotions, special features, and customer support.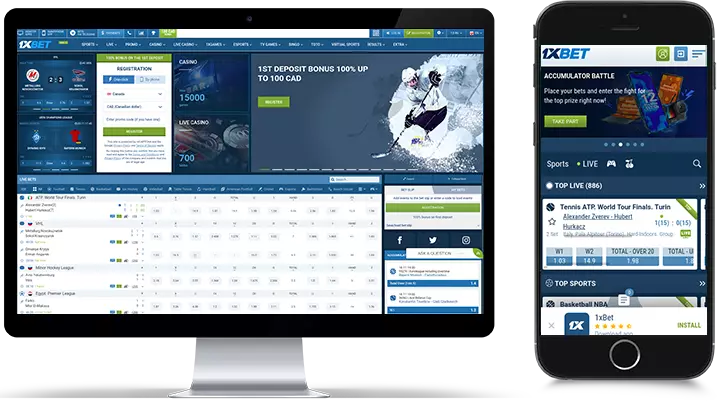 Malaysian bettors who are in search of a renowned bookmaker to experience the thrill of sports betting and make some money in the process would love to hear about 1xBet. Although the operator is relatively new on the sports betting scene, it already has won the trust and loyalty of thousands of sports betting fans all over the world.
Even inexperienced punters will face no problems placing bets on the platform, as the operator delivers detailed information and statistics on a variety of sports events. Every day bettors are treated to an abundance of markets, from major to niche ones. In-play betting substantially enhances the opportunities for a rewarding betting experience and undoubtedly provokes great interest in the relevant sports.
The operator has developed several unique features contributing to an extraordinary betting experience. One of them is the MultiLive page, where punters may create their customized page by adding online events and placing bets on all of them.
MultiLive Page
Payments in MYR
Quality live streaming and plenty of in-play markets
Convenient QR code login option
Some bettors report issues with the processing of their withdrawals
Slightly cluttered homepage design
BK8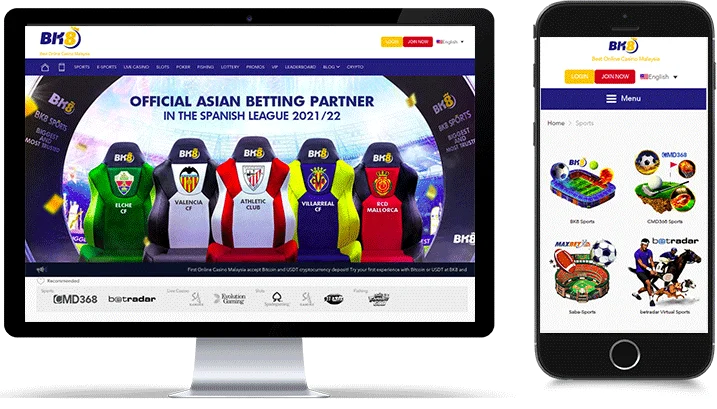 BK8 is among the leaders serving the market in south-east Asia. The sportsbook provides some convenient solutions specifically tailored to the needs and preferences of Malaysian punters, including payments in MYR. The pre-match section of the sportsbook includes an impressive selection of 60,000+ sports events on a monthly basis. As for the in-play markets, bettors may pick from 1,000+ events daily. Sports betting fans are free to choose among a variety of sports such as football, rugby, tennis, volleyball, baseball, American football, and many others.
There is the convenient Quick Bet feature allowing punters to place wagers in a matter of seconds. Various VIP and loyalty programs are designed to keep punters' interests high.
As far as the customer support department is concerned, there are various means to contact them 24/7, including via telephone, live chat, e-mail, and WhatsApp. The banking options that are available are also complying with the specifics of the Malaysian market.
Competitive odds
Cryptocurrencies supported
Thousands of betting markets every month
High betting and winning limits
Lack of Bet Builder feature
The website might be a bit tough to navigate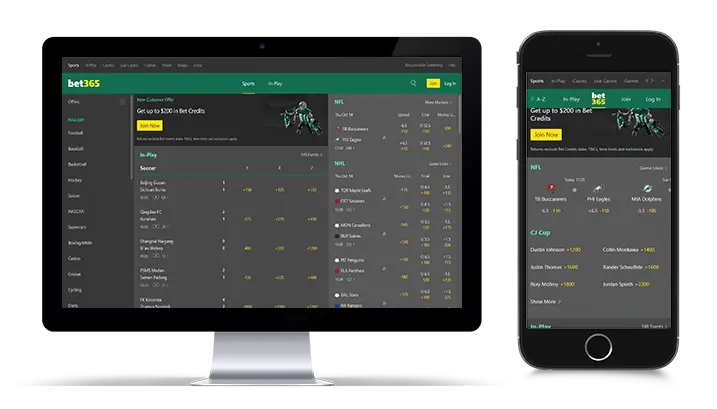 Operating since 2001, bet365 is among the most trusted operators globally, and also an ideal choice for Malaysian punters. The sportsbook has an immense potential largely due to its comprehensive sports catalog. Malaysians are sure to find their favorite disciplines there, as the bookmaker covers a plethora of major and niche sports. Bettors are able to place wagers on a variety of leagues such as the English Premier League, UEFA Champions League, and UEFA Europa League, to name a few.
As for the selection of promotional incentives and odds, bettors may rest assured that the operator offers great value and that their betting experience has the potential to be quite rewarding.
Sports betting fans can also enjoy many additional features offered by the bookmaker, including the bet builder and the cash-out features. In-play markets versatility and live streaming of exceptional quality are other strong points of the bookie.
Sports catalog of impressive proportions
Dependable operator
Bet builder feature
Cash-out feature
Lack of promotions for users of mobile devices
Withdrawals sometimes take too long to be processed
Reported cases of blocked users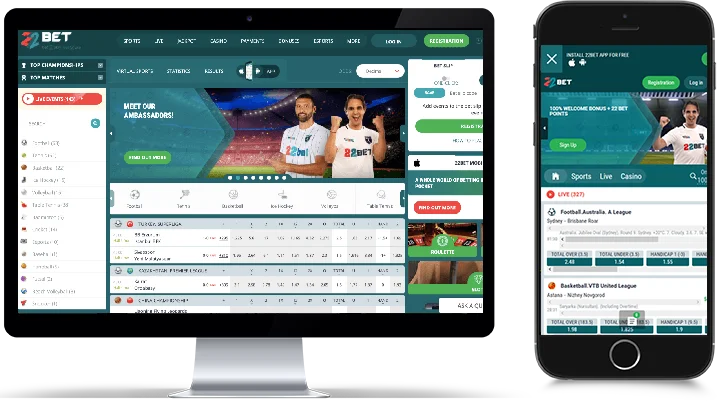 Since its start of operation in 2017, 22Bet has been rapidly growing and expanding its sports catalog. It is definitely a bookmaker worth checking in case Malaysian punters are in search of a safe and rewarding betting environment.
The variety of major sports leagues is overwhelming and bettors may easily find the competition that stirs their interest the most. The sportsbook strives to provide numerous opportunities for betting action on games from the NBA, MLB, as well as Malaysia's favorite English Premier League, and many others. Another area where 22Bet excels at is eSports.
The operator has developed an app for Android and iOS mobile devices ensuring smooth and hassle-free mobile betting, equipped with all the features and functionalities of the PC version.
In order to attract an ever-growing number of newly-registered punters and keep its loyal registrants happy, the sportsbook has plenty of bonuses and promotions in store.
A wide assortment of in-play markets
Esports available
Statistics on a variety of sports
A selection of over 25 cryptocurrencies
Payments can be processed slowly sometimes
Lack of a Bet Builder feature
The homepage might be perceived as cluttered by some
W88
W88 is yet another sportsbook that specializes in serving countries from the Asian markets, including Malaysia. The operator's sports catalog includes American football, badminton, baseball, basketball, boxing, eSports, Formula 1, golf, handball, and tennis, among others. As for the available leagues, there are options to choose from UEFA Champions League, the Italian Serie A, and the English Premier League, to mention a few.
Bettors may opt for a variety of football bets such as 1×2, over/under, Asian Handicap, and many others. Live betting on football, tennis, basketball, baseball, and ice hockey is supported, as well as statistics regarding the relevant live sports events. The variety of eSports, virtual, and fantasy sports is decent.
Punters will certainly appreciate the 24/7 customer support, that can be reached through telephone, live chat, e-mail, and Skype.
A renowned operator, well-known in Malaysia
A variety of banking options
ESports
App for Android and iOS portable devices
Live streaming is available to registered punters only
The website platform is not very easy to navigate
Takes some time to process customer withdrawal requests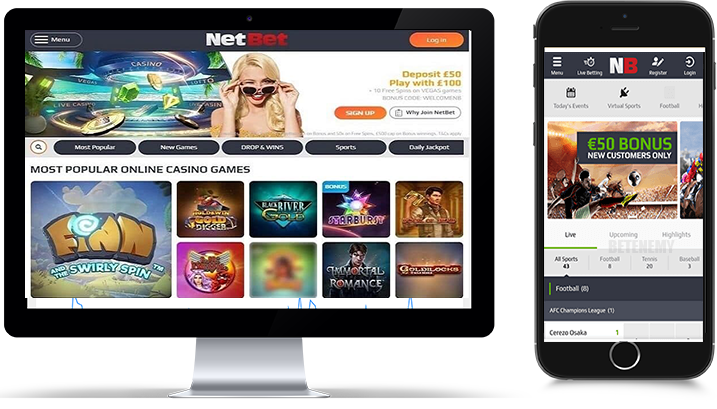 Having over 20 years of successful presence on the sports betting market, NetBet is undeniably one of the global leaders. Offering a variety of intriguing features such as Cash-out and BetMaker, the operator will surely provide punters with everything needed for a seamless betting experience.
Bettors might be interested also in the Combo Boost offer, available for football, basketball, tennis, ice hockey, American football, and baseball, as well as the SnapBet and Add2Bet features. The latter allows punters to add new selections to their existing open bets. VIP punters are given exclusive access to bonuses and promotions.
The sportsbook catalog includes a lot of major and niche sports, including the Malaysians' favorite disciplines such as football and badminton. Live betting and virtual sports find a very good representation in this sportsbook. Bettors may choose between the three most common odds formats – decimal, fractional, and moneyline.
A wealth of in-play markets
Cash-out feature
Statistics & Results
SnapBet and BetMaker features
Cumbersome verification process
MYR currency is not supported
Some users report dissatisfaction with the customer support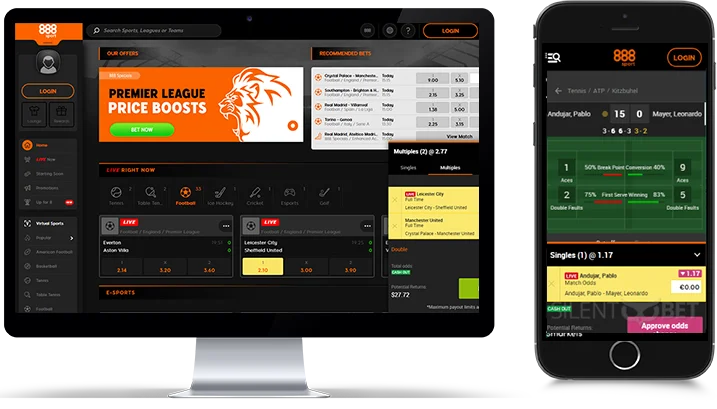 Operating since 1997, 888sport is one of the most trusted brands, synonymous with safety and dependability. The operator provides a huge array of sports and events at competitive odds, as well as plenty of bonus offers and promotions. The betting tips and betting calculator are handy tools that every sports betting fan can use for a profitable and rewarding betting experience. The blog section is yet another source of useful sports information.
Whether you are following the English Premier League, an event from the European Rugby Challenge Cup, or prefer badminton championships, you will have the chance to find them at 888sport. The diversity of live sports events is great, including action on football, tennis, ice hockey, basketball, badminton, rugby, and many others. The operator has also provided a convenient schedule, delivering detailed information about the upcoming live events within the next week.
A renowned brand, holding a number of certificates
In-play markets variety
Abundance of payment options
A lot of promotional offers
Live-chat and phone support are not available 24/7
Variance in withdrawal speed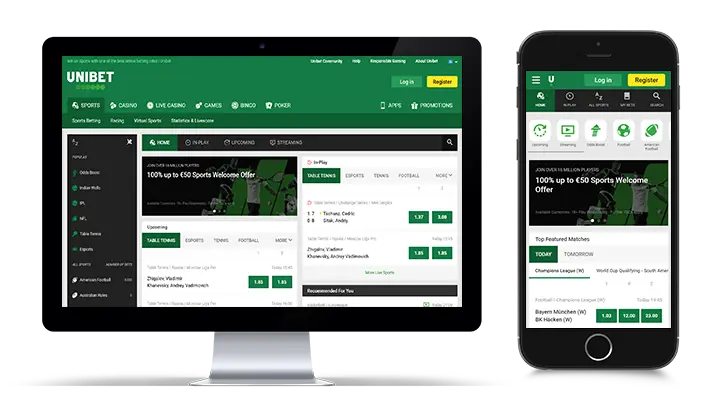 Unibet is yet another long-standing brand that has gained global renown and serves the needs of Malaysian punters. Established back in 1997, the sportsbook has been dedicated to providing top-class sports betting services. The operator is praised for the lucrative odds on offer, as well as the broad coverage of major and niche sports markets.
Bettors are treated to a wide choice of major sports tournaments such as the CFL, the NFL, the NBA, the EuroLeague, the Champions League, Copa Libertadores, the NHL, the KHL, the Asia League, the MLB, and many others. As for the availability of sports markets, it is equally diverse. Football bets include total goals by a team, draw and both teams to score, half time/full time, etc. Some of the tennis markets are total sets, set handicap, over/under bets, and so on.
One of the longest-standing sports betting operators
An unrivaled assortment of pre-match and in-play markets
Live streaming service
App for Android and iOS devices
Lack of telephone customer service
Long verification procedures
Some users report discontent with the live-chat service
M88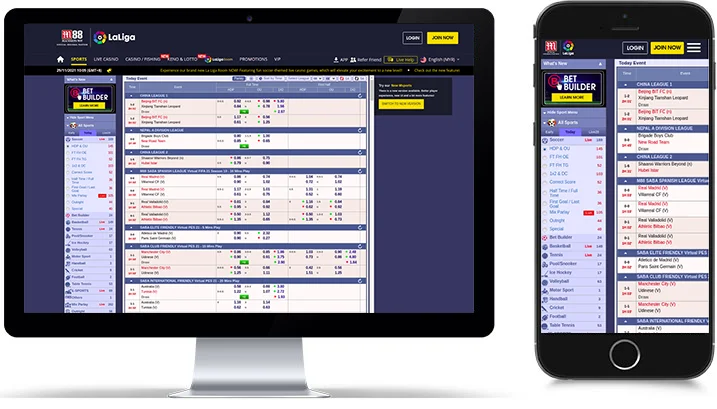 M88 is one of the bookmakers on our list that is mainly focused on serving the sports betting needs of Asian-based punters. Asian sports events and championships are readily available for wagers, although many European and international competitions find a great representation here.
Apart from the all-time favorite football, basketball, ice hockey, and tennis the bookmaker's sports catalog includes many other disciplines such as badminton, rugby, golf, and cricket.
The betting platform has been designed with user-friendliness and easy navigation in mind. The website is compatible with portable devices and there is a mobile app in place for Android and iOS phones and tablets. Malaysia-based punters can opt for deposits and withdrawals using the MYR currency.
Punters may place wagers on a variety of football leagues, including the English Premier League, China League 1, Russia Championship U19, Italie Serie A, and many others. The operator also offers a Bet Builder feature.
Competitive betting odds
A variety of sports events to bet on
Live streaming
VIP Program
Some of the bonuses have high turnover requirements
Some users find the customer support not helpful and slow
Dafabet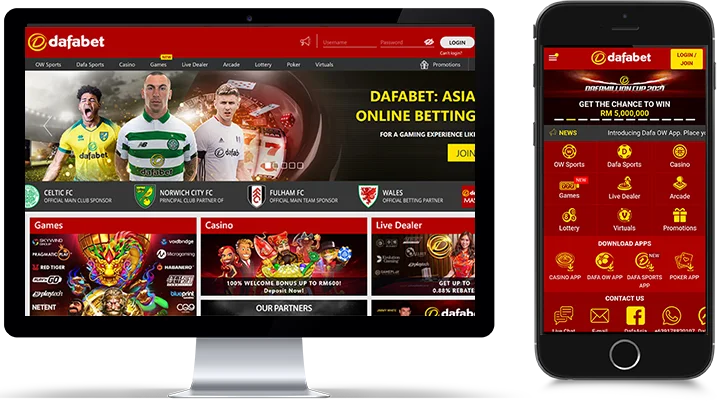 Founded in 2004, Dafabet is among the most secure and trusted sportsbooks operating on the Asian market. In-play betting is supported by the bookie and the range of live markets includes major events from the FIFA World Cup, the English Premier League, the National Basketball Association, and the US Open, among others.
Sports betting fans have a massive portfolio of sports at their disposal including football, basketball, boxing, ice hockey, and many others. Niche sports also find a good representation. Another area where Dafabet is exclusively good at is the eSports betting market.
Dafabet delivers odds of very good value and switching between the available odds formats is effortless. Accumulator bets on sports such as football and cricket are possible. The live streaming service features good quality and it is available for registered punters only.
One of the most trusted brands on the Asian market
In-play coverage of major sports tournaments
A variety of eSports markets
Cash-out feature is not available
Live streaming service is accessible to registered punters only
Malaysia's Betting Sites FAQ