Mexico is home to millions of sports fans, with football and boxing specifically receiving quite the attention within the country. It should come as no surprise, then, that wagering on sports is also quite the popular hobby in the South American nation.
When it comes to the law, Mexico's gambling scene was in a tough spot for the better part of the 20th century. Thankfully things changed for the better after further amendments in 2004 and 2013, and now wagering and online betting, in particular, are legal in Mexico provided that an establishment has acquired the necessary permits.
Although there are a few bookmakers within the country which are licensed to operate by the Ministry of the Interior, Mexican punters will generally gravitate towards the international market due to the abundance of choice when it comes to licensed reputable sportsbooks. This can also pose risks, however, and it is thus important for gambling enthusiasts from Mexico to familiarize themselves with the international standards of a good bookmaker.
Legalities of Online Sports Betting in Mexico
Overview
History
Legalization
Software
Historical Betting Overview
Like many territories around the world, gambling in Mexico has been popular for centuries, even during the time of the Aztecs. French influence in the 19th century further popularized the activity, and French gambling venues used to be present within the territory of the country.
Unfortunately, things changed in the 20th century when president Lazaro Cardenas declared that games of chance are illegal within Mexico. The Federal Gaming and Lotteries Law, published in 1947 by president Miguel Alemán Valdés, officially made the prohibition part of the country's legislation. It should, however, also be noted that this new law allowed for the Ministry of the Interior to regulate games of chance.
The Gaming Law remained pretty much unchanged until 2004 when amendments were introduced in order to make some much-needed updates. They were further polished in 2013.
What You Need to Know About Sports Betting in Mexico
In general, the majority of Mexican punters will wager at international sports betting websites. This is due to the fact that the online gambling presence of Mexican sportsbooks is fairly limited, and not nearly as varied as what can be found on the web internationally.
Bettors from Mexico will not run into any legal issues while wagering at offshore sportsbooks, due to the fact that the Mexican Gaming Law has not prohibited individuals from wagering at bookmakers online. The only requirement for punters is for them to be at least 18 years old, and the sportsbook they wager at must be licensed by the regulatory bodies authorized to issue such licenses. Additionally, the website itself must allow Mexican gambling enthusiasts to use it as a place to wager at.
Although bettors in Mexico will rarely face any legal consequences for wagering at unlicensed websites, betting at licensed sportsbooks is recommended either way. Websites without a license can be dangerous and can even scam unsuspecting punters in various ways.
In addition, winnings gained from wagering online are taxed. The federal government tax is 1% of the winnings, while the state government tax can be from 4% to 6% of your winnings.
Odds Format in Mexico
Decimal Odds
Fractional Odds
American Odds
Calculations
Generally, Mexican punters have access to the same odds formats international bettors do, since they tend to wager at offshore books. It is thus a given that they will usually come across the decimal, fractional, and American odds formats.
Around the world, the decimal odds format remains the most popular of the three due to how easy it is to use compared to other formats since all you need to do is multiply your stake by the odds. This will show you your stake + profit amount you will be left with should you win.
Nonetheless, American or Fractional odds can be more convenient depending on an individual's personal preferences, so as previously mentioned, Mexican bettors can also utilize these formats if they wish to do so. It is also worth mentioning that certain Mexican-friendly bookies will also include more niche formats that you do not come across often in the Western world, such as the Indonesian, Hong Kong, and Malaysian odds formats.
Mexico Betting Laws and Legislation
Land-based gambling has long been regulated within Mexico. The first piece of legislation pertaining to gambling activities was published in December 1947 by then-president Miguel Alemán Valdés. The laws were meant to explicitly prohibit gambling in the country, although a certain clause that granted the Ministry of Internal affairs the power to authorize games and bets left things muddled and confusing for many.
Online gambling was, understandably, not covered under the legislation in question since the internet did not exist at the time. However, even amendments made in the early 2010s and in 2013 failed to properly address remote gambling and sports betting in particular.
Currently, online gambling is not explicitly mentioned in the Gaming Law. The only reference to electronically conducted sports bets is made in Articles 85 and 86 of the Gaming Regulations. Nonetheless, it is important to mention that permits for gaming activity can be granted within the country, and the regulatory body responsible for this is the Gambling and Raffles Bureau of the Ministry of the Interior. These permits can be granted to land-based establishments which also operate online websites.
As for off-shore gambling, there is nothing in the Gaming Law that explicitly forbids foreign bookmakers from accepting Mexican punters. Furthermore, Mexican netizens are not prohibited from wagering at online bookmakers located in jurisdictions outside of Mexico.
Mexico Betting Restrictions
Certain legislations are the typical run-of-the-mill restrictions you would find in any country which regulates its gambling industry, the first of which is the fact that only individuals 18 or older are legally permitted to wager. Furthermore, bookmakers are obligated to take all the necessary precautions and measures to make sure that minors are unable to place bets of any kind on their websites.
Licenses for online gambling activity can be granted only if the company behind the website operates in brick-and-mortar venues too. Online bookmakers must also utilize software that ensures that the betting system is not compromised, in order for the game to be fair and for it to not deceive bettors with false information. Bettors must also be instructed that they should gamble responsibly.
As for punters themselves, so long as you are of age and you have not cheated while gambling, there is no law that prohibits you from partaking in wagering activities online. Betting at off-shore bookmakers is not forbidden either.
Online Betting Regulatory Body in Mexico
Although off-shore online bookmakers do not need a specific Mexican license in order to offer their services to Mexican bettors, the same cannot be said about local betting websites.
Mexican bookies operating within the country will need to acquire a license from The Ministry of the Interior's Gambling and Raffles Bureau. The Ministry of the Interior has been responsible for the country's gambling matters for over 70 years, seeing as president Miguel Alemán Valdé put them in charge of authorizing and regulating bets and games when he published the Gaming Law in December 1947. Additionally, the Ministry of the Interior is also the regulatory body that can authorize advertisements related to gambling, seeing as bookmakers and pretty much any gambling establishment are forbidden from advertising their venue or website otherwise.
Taxes are also imposed on bookmakers and on individual bettors who partake in gambling and win, and the nation's Tax Administration Service is the one in charge of such matters.
Popular Betting Markets in Mexico
Football
Tennis
Volleyball
Basketball
Since sports as a whole are pretty popular in Mexico, it does not come as a surprise that the nation's sports betting scene is pretty large as well. Moreover, wagering on sports is one of the best ways to directly be a part of sports events, especially since you can net impressive wins while doing so.
Soccer, the ever-popular poster child of bookmakers, is extremely well-liked in Mexico too. Liga MX and Liga MX Femenil, and the Mexico national football team are the most major leagues in the South American country. As for the types of bets you will find on the average Mexico-friendly betting website, both teams to score, outrights, under/over and totals are all very popular. In addition, live betting also tends to be available.
Boxing is basically the king of individual sports as far as most Mexican individuals are considered, and both ordinary fans and gambling enthusiasts absolutely love this sport. After all, no other nation can boast over 200 boxing champions. Naturally, boxing has quite the prominent presence in sportsbooks and bets the likes of outrights and totals are quite common. In-play is once again quite popular. The most major boxing league in Mexico is the World Boxing League.
Baseball is also well-liked among Mexican betting circles, which is not surprising considering that the sport, in general, is an absolute sensation in the nation. The largest leagues are the Mexican League along with The Mexican Pacific League. When it comes to the available markets, punters will come across handicap bets, outrights, and match-winner bets among many others.
Last but certainly not least, we cannot neglect to mention basketball. Lots of Mexican punters are fond of this sport, and Mexican basketball leagues include the Liga Nacional de Baloncesto Profesional and Circuito de Baloncesto de la Costa del Pacífico. Markets such as handicap bets and moneyline bets are popular on sportsbooks.
Popular Betting Markets in Mexico Summary
Sport
Leagues
Soccer
Liga MX, Liga MX Femenil, The Mexico National Football Team
Boxing
World Boxing League
Baseball
Mexican League, The Mexican Pacific League
Basketball
Liga Nacional de Baloncesto Profesional, Circuito de Baloncesto de la Costa del Pacífico
Mexico Online Betting Bonuses
Promotions
Match Bonus
Free Bets
Enhanced Odds
Bonuses might be one of the most important aspects of an online bookmaker. They are a quick and easy way for potential customers to see whether a bookie treats its users well, and lucrative bonuses will often be what actually brought a betting website to a punter's attention.
The first type of promotions Mexican bettors are likely to encounter are the so-called sign-up bonuses, often referred to as welcome bonuses. These promotions come in many variants, and some will match the first deposit of the player while others will award free bets. Make sure to pay very careful attention to the terms and conditions of these promos, however, as a required deposit amount will usually be specified. In addition, free bets will often be subjected to rollover requirements which will need to be met if you want to withdraw money.
Free bets can also be won from Accumulator promotions, and Mexico-friendly bookies will usually have a minimum number of selections that needs to be met along with a fixed bet amount.
Referral bonuses are also quite common. They will reward you with goodies if you manage to convince a friend to create an account and start betting at the bookmaker in question. Typically, your acquaintance will need to either wager a certain amount for you to receive your bonus, or they will need to remain a regular player for a certain amount of time.
Lastly, loyalty bonuses are also sought-after by punters, and they typically entail free bets and boosted odds for regular bettors on a weekly basis.
Mobile Betting in Mexico
Mobile Play
Download App
Browser In-Play
Download via QR
Mexico has steadily been moving towards portability as the main focus when technology is concerned, which means that smartphone usage is increasing fast among both younger and older individuals. These trends are not any different when it comes to gambling enthusiasts.
With this in mind, all major and up-and-coming bookmakers who wish to be Mexico-friendly pay special attention to how well their bookmakers are compatible with mobile devices and take the necessary steps to improve and enhance the experience when possible. This is why there are several types of mobile solutions utilized by betting websites. A popular option is dedicated applications, which can typically be downloaded either through Google Play or the App Store. Making mobile-friendly versions of a website is also widespread.
All of the aforementioned mobile solutions offer excellent features that do not fall behind what you will find at bookmaker's desktop website. Wagering is just as easy, for instance, especially since the betting software on mobile devices is very well organized. In addition, managing one's finances is also hassle-free, and you will have access to options like credit cards and prepaid vouchers just like bettors who use a computer. Should you ever run into any issues, you will also find that contacting support via your smartphone is practically effortless.
Popular Betting Banking Methods in Mexico
Bank Transfer
Credit Cards
E-Wallet
Prepaid Cards
The financial side of things might be one of the most important aspects of online gambling, as we are certain both experienced punters alike and those who operate can attest to. Pretty much all bettors would rather have the opportunity to manage their finances with their payment methods of choice and in a fast and secure way, lest failed transactions sour the gambling experience of bettors.
This is why Mexico-friendly bookies have indeed made sure to provide a wide range of payment solutions to their customers, and punters from the South American country will generally find that managing one's finances is easy and hassle-free. Credit and debit card solutions the likes of American Express, Visa, and Mastercard for instance, will all be provided to Mexican punters at most online sportsbooks. These solutions can typically be used both to deposit money and to withdraw funds. Additionally, bank transfer is also a familiar banking solution for most bettors.
Another method that can be used for both depositing and withdrawing money is cryptocurrencies, and Bitcoin, Etherium, and Litecoin will more often than not be provided as a payment solution by Mexico-friendly bookies. They tend to offer faster transaction times, and many Mexican gambling enthusiasts have come to prefer these types of banking solutions.
It is important to remember that not all payment methods can be utilized for both deposits and withdrawals. For instance, pre-paid vouchers like OXXO and Paysafecard, as well as options the likes of Mercado Pago, are some of the popular deposit-only choices for Mexican punters. Astropay and Todito Cash can also be utilized strictly for deposits.
Popular Banking Methods in Mexico
Payment Method
Fees
Deposit Limits
Deposit Times
Withdrawal Limits
Withdrawal Times
American Express
Free
$10 – $200
Instant
$20 – $2,000
1-5 days
Mastercard
Free
$10 – $200
Instant
$20 – $2,000
1-5 days
Visa
Free
$10 – $200
Instant
$20 – $2,000
1-5 days
Banco Azteca
Free
$10 – $3,000
1 day
N/A
N/A
BBVA
Free
$10 – $3,000
1 day
N/A
N/A
SPEI
Free
$10 – $3,000
1 day
N/A
N/A
Banorte
Free
$10 – $3,000
1 day
N/A
N/A
Bitcoin
Free
min 0,0002 BTC
15 minutes
$20 – $5,000
15 minutes
Bitcoin cash
Free
min $10
15 minutes
$20 – $5,000
15 minutes
Litecoin
Free
min 0,01 LTC
15 minutes
$20 – $5,000
15 minutes
Ethereum
Free
min 0,02 ETH
15 minutes
$20 – $5,000
15 minutes
HSBC
Free
$10 – $3,000
1 day
N/A
N/A
OXXO
Free
$10 – $3,000
1 day
N/A
N/A
OnePay
Free
$10 – $3,000
1 day
N/A
N/A
Santander
Free
$10 – $3,000
1 day
N/A
N/A
Scotiabank
Free
$10 – $3,000
1 day
N/A
N/A
ecoPayz
Free
$10 – $1,000
Instant
$20 – $1,000
Instant
Astropay card
Free
$10 – $5,000
Instant
$20 – $5,000
Instant
Voucher
Free
$10 – $3,000
Instant
$20 – $3,000
Instant
Bank Transfer
Free
N/A
N/A
$20 – $2,000
1-4 days
What to Watch When Picking Mexico Betting Site
Security
Customer Support
Mobile Compatibility
In-Play Betting
Thanks to the wonders of the internet, there are now basically hundreds of bookmakers Mexican punters can access. This abundance of choice means that you get to be picky with which bookmakers deserve your attention and money, and there are many things to keep into consideration when you are searching for a new bookmaker.
First and foremost, check what licenses the bookie you are eyeing has acquired. If the bookmaker is Mexican, then they must have a license by the Ministry of Internal affairs. Foreign licenses will depend on where a bookmaker operates, but licenses by the Malta Gaming Authority are considered trustworthy. Curacao licenses are not as well-received, but it is still better to choose a sportsbook licensed by this gaming board than one without a license.
In addition, take a look at the banking solutions a bookmaker utilizes. There is nothing worse than taking the trouble of registering at a website and undergoing identity verification, only to later find out that you will be unable to wager at this bookmaker because it does not offer your payment method of choice.
Checking out the sportsbook's contents should also be on your to-do list. Although Mexico-friendly bookmakers tend to offer an array of sports, it is better safe than sorry if you are picky with your sports, or if you have some must-haves.
Best 10 Betting Sites in Mexico
Due to the fact that Mexican bettors are not restricted to where they can wager, they have a huge number of international bookies at their disposal. While this creates many wonderful opportunities, it also makes wagering online risky, which is why we have compiled a list of the most reputable bookies out there.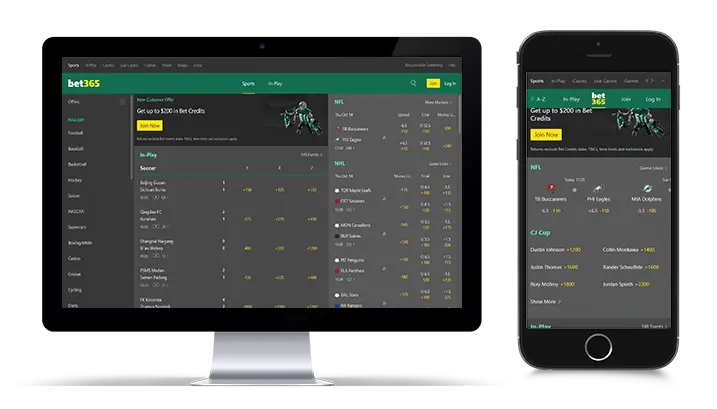 Founded in 2000, Betway is one of the most famous bookmakers nowadays and it is used by thousands of bettors worldwide. It is licensed by the Mexican Ministry of the Interior, which is the country's regulatory body. It is translated into many languages, and naturally Spanish is among them.
The bookmaker features a vast array of sports to choose from, including popular options such as Soccer and eSports, to more unique options like politics. The markets on offer do not fall behind, and outrights, parlay bets, and live betting are all but a fraction of the bet variations you can pick from. Speaking of wagering, the betting software works very well and we are happy with the odds formats that are available.
The bookie also passed with flying colors as far as customer support is concerned. Live chat is available on the clock, and email and post are also options for gambling enthusiasts who prefer these methods.
Great mobile compatibility
Licensed by a credible regulatory body
Excellent sports selection
Verification can be troublesome for some users
Certain promotions are country-specific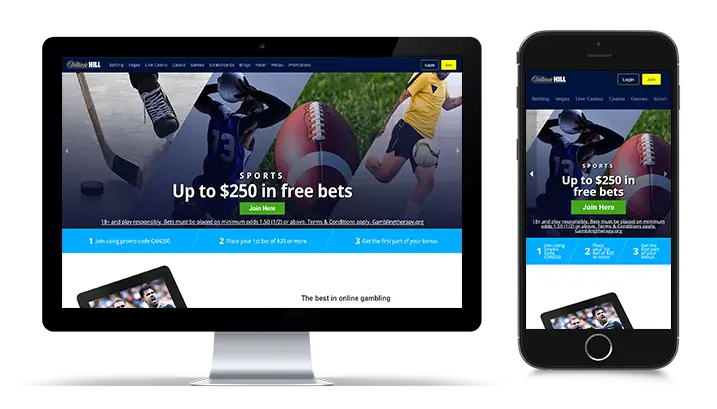 William Hill is a behemoth in the gambling industry. Its history dates all the way back to 1934 when William Hill, the company's founder and namesake, established a postal and telephone betting service. The company soon grew and with time, evolved into the bookmaker we know and love nowadays.
Licensed by the United Kingdom Gambling Commission and the Malta Gaming Authority, William Hill is a safe and comfortable place to wager on sports, and the simple and elegant interface makes for fantastic gambling sessions.
Bettors who utilize mobile devices will also find that navigating the website is easy thanks to the fact that it is optimized for all browsers, and because the mobile applications are also very well made.
In addition, live streaming is available for many in-play events. Live streams bring a lot of excitement to the already thrilling practice of live betting, so we are certain many punters will be absolutely thrilled to give it a try.
Wide variety of sports and markets
In-play
Live streams
24/7 live chat customer support
Certain bonuses are country-specific
The visual design can be a bit overwhelming initially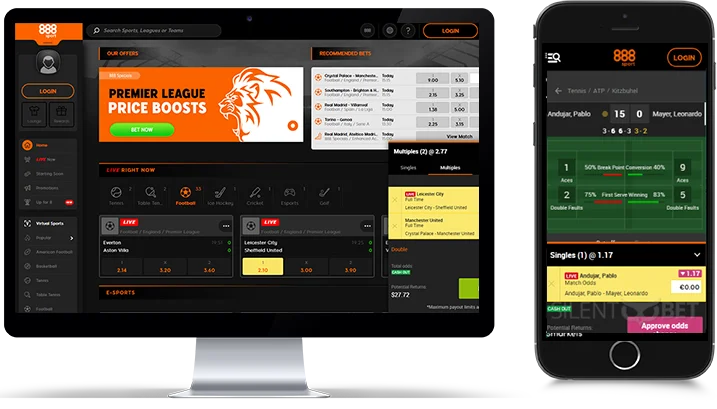 With its modern design and exceptional sports catalog, 888sport is a great all-around bookie. Virtual Global Digital Services Limited, the owner of 888sport, is licensed by the regulatory body of Gibraltar, the Malta Gaming Authority, and the United Kingdom Gambling Commission. In addition, the bookmaker utilizes SSL encryption and will thus treat all of your personal and financial information with the utmost care.
You can also be certain that no matter which payment method you prefer, you will be able to deposit and withdraw money with no issues because 888sports provides many banking solutions to its customers. This includes both more traditional methods such as
The betting experience itself is great overall. The user interface makes for a fun and hassle-free wagering experience and the wide variety of sports and markets that include bets the likes of spread bets and totals.
Good selection of payment solutions
Licensed by a number of trusted regulatory bodies
Pleasant visual design
No live chat support
Certain withdrawal methods can take a while to process
Betvictor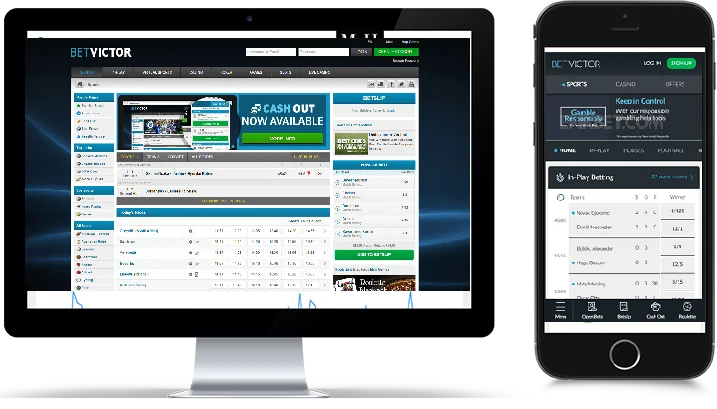 Licensed by the regulatory body of Gibraltar and the United Kingdom Gambling Commission, Betvictor is a bookmaker with over 70 years of experience. Its age certainly does not show in its design, however, because the website looks modern and sports a refreshing palette dominated by blue shades.
The mobile solutions look just as great, regardless of whether you go with one of Betvictor's dedicated smartphone applications or the mobile website itself. You will also find that in terms of functionality, the solutions intended for Android and iOS devices perform just as well as their desktop counterparts.
Furthermore, Betvictor continues to impress upon taking a look at their sportsbook. The selection of sports is nothing short of impressive, and you will come across soccer, greyhound racing, and eSports among many more. Given that markets such as the correct score, totals, double chance, and map winner to name a few are available, even the pickiest of bettors will enjoy the wagering experienced at Betvictor.
In-play
24/7 Live-chat
Excellent user interface
Customer support via email can take a while
Cumbersome verification process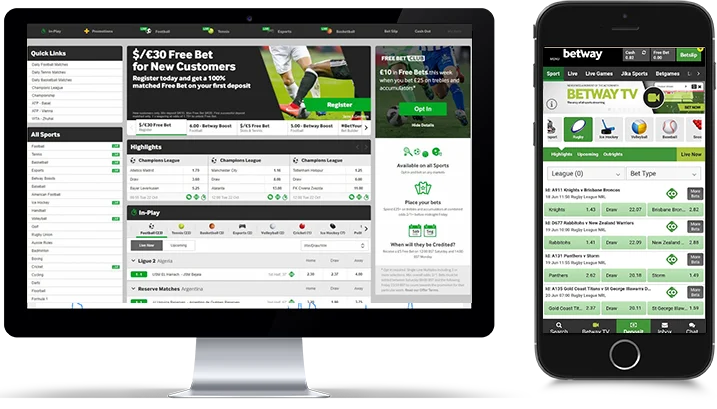 Betway is an online bookmaker owned and operated by Super Group, and it was established in 2006. To say that it is popular would be an understatement since thousands of bettors have made Betway their bookmaker of choice. Registration is a streamlined process, and wagering itself is very easy thanks to Betway's exceptional software and its inclusion of decimal, fractional and American odds.
Deposits and withdrawals are a breeze thanks to the fact that Betway utilizes various banking methods. Traditional options such as credit cards are available, and those who value privacy can also opt for e-wallet services.
In addition, the bookmaker has not neglected to accommodate bettors who play primarily on smartphones. Punters who would like to download dedicated smartphone applications for their Android or iOS devices can do so by installing the apps from Google Play. As for bettors who are more fond of mobile websites, Betway has provided such an option as well. Wagering on the go is just as easy thanks to these mobile solutions.
Licensed by the UKGC and the MGA
Wide variety of sports and markets
Great customer service
Certain bonuses are not available to Mexican bettors
No live-streaming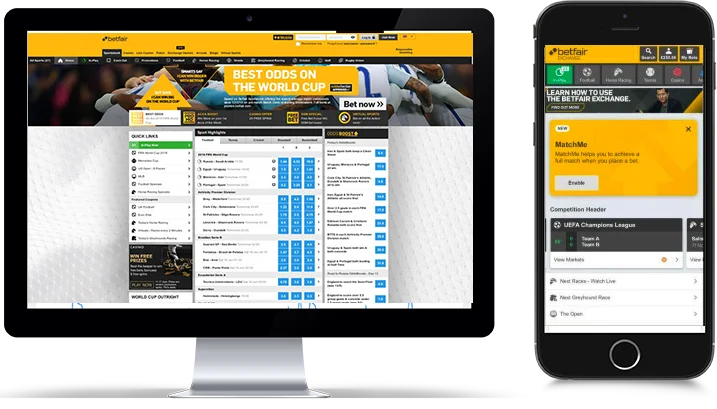 Founded in 1999, Betfair is a bookmaker with over 20 years of experience within the sports betting sphere. It has acquired an impressive number of licenses issued by regulatory bodies which include the United Kingdom Gambling Commission, the Malta Gaming Authority, and a number of country-specific gaming boards.
Betfair's appearance is quite pleasing. The website sports an industrial-inspired design and a black and yellow color palette which serves to further enhance the overall clean and professional interface. The betting software is no slouch either, seeing as the layout is very well-organized and making bets is very easy and fast.
Additionally, both novices, as well as experienced punters, will be pleased to know that the two most popular odds formats can be utilized. Decimal odds tend to be considered the easiest of them all, but gambling enthusiasts who prefer fractional odds can also have the option of choosing their favorite format.
Varied sportsbook
In-play
24/7 customer support
No American odds format
Certain promotions have banking solution restrictions
Bodog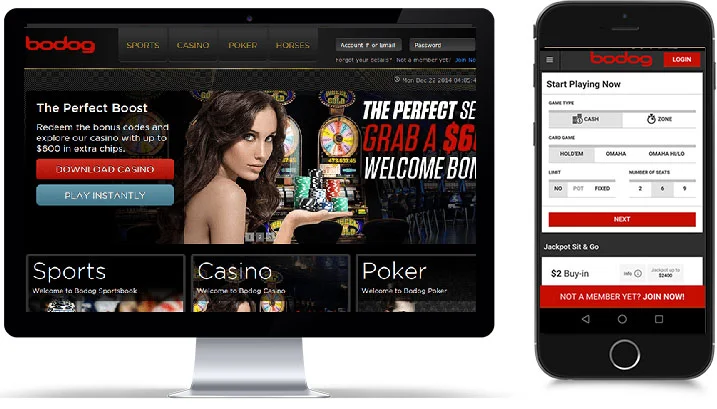 Bodog is an experienced and reputable bookmaker headquartered in Antigua and Barbuda. It features a library filled to the brim with a vast number of sports which include tennis, volleyball, cycling, and soccer among many others. Punters can also pick between bet types such as handicap bets, totals, no team to score, draw no bet, and more.
We were also quite pleased to find that there are a couple of languages to choose from, which include Spanish. Speaking of options, Mexican bettors can also choose between decimal or American odds depending on which format they are more fond of.
Last but not least, deposits and withdrawals are a breeze thanks to the fact that Bodog has provided an excellent array of banking solutions. Widespread and familiar methods such as Visa and Mastercard cards, and pre-paid vouchers are available, and gambling enthusiasts can also utilize Bitcoin if they prefer the convenience this payment solution provides.
Cryptocurrencies are supported
Cashout
Great user interface
No fractional odds
Low max deposit limits for certain banking solutions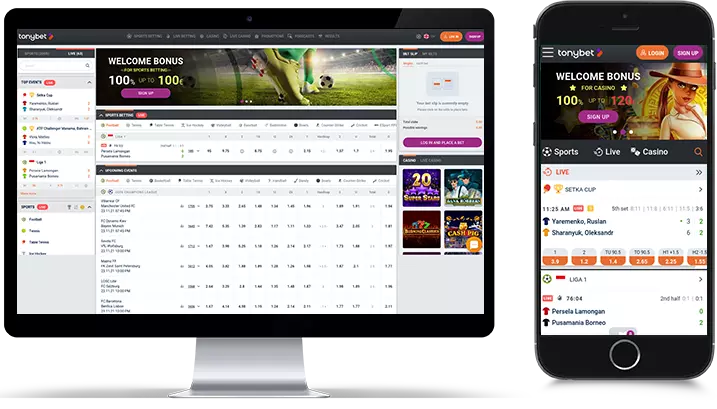 Tonybet is a bookmaker that does not compromise on quality, which has left it with an impeccable reputation among gambling enthusiasts. Wagering at Tonybet is effortless and hassle-free thanks to the website's SSL encryption, and it is also quite fun because there are tons of great features. For instance, live betting is available, which means that bettors who are fans of the thrill that in-play provides are in luck.
The website is exceptionally well-optimized for mobile devices. Regardless of whether you opt for downloading one of the dedicated smartphone applications, or you choose to instead utilize the mobile website, you will find that your wagering experience will be just as effortless and entertaining as it would be on a computer. In addition, punters will also find that the visual design of both Tonybet's mobile solutions and its desktop version is very well made. The design language is quite clean, and navigation is pretty easy all in all.
Conveniently placed bet slip
Various markets
Many payment solutions
No greyhound racing
No live chat
Caliente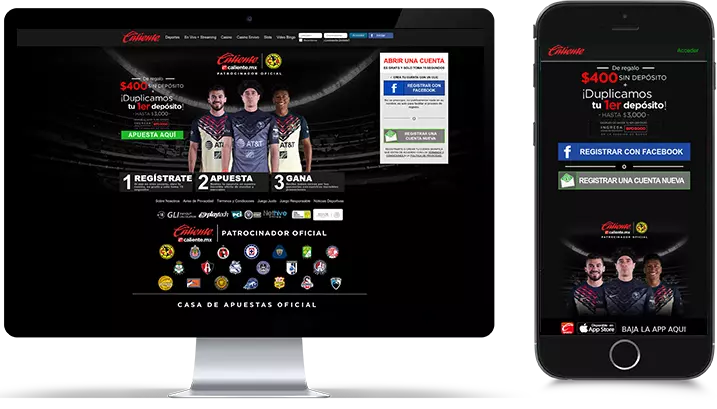 Caliente is a Mexican-based bookmaker with a lot to offer. It is part of the most major sports betting group in Mexico, Grupo Caliente. Seeing as this bookie's base of operations is within Mexico, Caliente boasts a license by the Mexican Ministry of the Interior.
Starting your journey at Caliente is quite easy thanks to the streamlined registration process, and you will also find wagering in and of itself quite enjoyable thanks to the bookmaker's snappy betting software. Additionally, depositing at Caliente is also pretty easy given the fact that there is a sufficient number of banking solutions at bettors' disposal.
Gambling enthusiasts who lead busy lives and thus need to use their smartphones in order to bet on sports are also catered to since the website scales well on smartphone screens and there are also applications you can download.
In terms of odds formats, bettors can choose between the three most popular options: decimal, fractional and American.
Great mobile compatibility
Varied catalog
Live streams
Cluttered layout
Withdrawals can only be conducted via bank transfer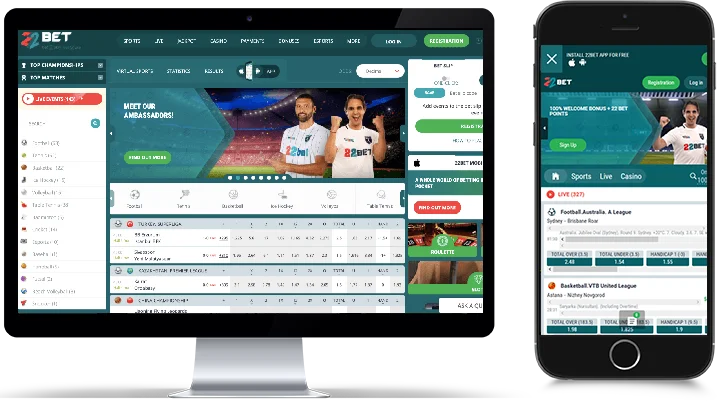 The bookmaker 22bet is quite the player in the international wagering scene, and it does not come as a surprise that this bookie has also captured the hearts of Mexican bettors.
It features an array of sports that include table tennis, horse racing, American football, soccer, and many more. In addition, you also have access to bet types, the likes of totals, and handicap bets among others, which can all be neatly organized in the well-made bet slip when you settle on the bets you want to make.
The website is available in many languages, so Spanish speakers will be able to choose their native language. Continuing the international theme, 22bet has also provided Malaysian, Hong Kong, and Indonesian betting odds alongside the more widespread formats, which is a rare and pleasant sight to see.
Seeing as any punter will eventually find themselves needing assistance, 22bet has ensured that requesting help from their staff is an easy task. Bettors can utilize the live chat feature, send an email, or give 22bet's support team a call.
Available in Spanish
In-play
Numerous odds formats
Visually overwhelming interface at first
Support can be slow