Sports betting is quite popular among Vietnamese gambling enthusiasts. Even in ancient times, people would wager on the outcome of fish fights, and this fondness for betting never really disappeared as things gradually progressed into the modern country we know today.
Vietnam's current gambling situation looks a bit disheartening at first glance, however, there is a lot to look forward to when it comes to its future The government has already made several steps in the right direction by legalizing land-based casino gambling to an extent, as well as making wagering on international soccer, greyhound racing, and horse racing events legal. So if this trend continues, someday soon Vietnamese punters will have far more betting options that are legal and regulated.
Online sports betting is yet to be legalized, but this has not quelled Vietnamese netizens' passion for wagering. In fact, they have found ways in which they can partake in this activity online, and remote sports betting is quite a popular past-time right now. Especially among punters on the go, seeing as mobile gambling is widespread in Vietnam.
Legalities of Online Sports Betting in Vietnam
Overview
History
Legalization
Software
Historical Betting Overview
Vietnam has a fascinating history when it comes to betting and gambling as a whole. Bau Cua, for instance, a game that resembles roulette in a sense, is so old that only legends suggest how and where it originated. In addition, there is a historical gambling activity popular in Asia where two siamese fighting fish would attack each other. The practice resembles modern wagering on MMA fights in a sense, although the outcome would depend on which fish would retreat first. The one willing to continue fighting would be considered the winner. This is yet another very old tradition that makes it evident just how popular gambling has always been in Vietnam.
Unfortunately, modern times spelled trouble for the country's wagering scene. The latter part of the twentieth century is characterized by the fact that betting and games of chance, in general, were completely banned except for the lottery.
In recent years, however, the government has made an effort to gradually change things and make gambling and sports betting legal one step at a time. In 2017 a decree was passed that made sports betting partly legal, but the conditions under which it is permitted are very restrictive. Only wagering on football, horse races, and greyhound races were legalized provided that the events are international. Furthermore, this permit only extends to brick-and-mortar venues, since online gambling and sports betting is still against the law.
What You Need to Know about Sports Betting in Vietnam
Online betting is currently considered illegal in Vietnam. The government has loosened its policy in recent years when it comes to brick-and-mortar betting, seeing as wagering on soccer, horse racing and greyhound racing is legal, but sadly such regulation changes have not happened as far as remote gambling is concerned.
Nonetheless, there are ways for Vietnamese bettors to wager online, which is why the activity is quite popular especially among gambling enthusiasts who value portability and wager on their smartphones. They can achieve this by making use of VPNs, which are applications and software used to encrypt your connection and make it appear as if your device is located somewhere else. Not only does this make it possible for Vietnamese bettors to access international bookies, but it also prevents them from getting caught and subsequently fined.
All of this has also led to a rise in the popularity of privacy-focused banking solutions. E-wallet services, for instance, are a well-liked method among Vietnamese gambling aficionados. They basically prevent your banking information from being visible to a bookmaker, which is how they add another layer of security to online betting. Cryptocurrencies are also quickly gaining momentum, with more and more bettors going for this method each year. Last but not least, if you wish to wager online in Vietnam, pre-paid vouchers are also a useful and valid option.
Odds Format in Vietnam
Decimal Odds
Fractional Odds
American Odds
Calculations
Vietnam is not all that much different from the rest of the world when it comes to odds formats. Pretty much all bookies that Vietnamese bettors use include the decimal format, and you often come across American and fractional odds as well. The decimal format tends to be preferred, however, since it is generally considered the easiest western odds format.
However, the variety does not end here for Vietnamese punters. This is because, in addition to these formats, three other formats will typically be included. Indonesian odds, for instance, are quite common and they resemble American odds in a sense. Hong Kong odds, on the other hand, are fairly simple since all you need to do to calculate the profit is to multiply your bet by the odds. The Malaysian format is similar and quite easy to use as well.
Vietnam Betting Laws and Legislation
For the better part of the 20th century and the beginning of the 21st century, gambling as a whole was completely banned, and this included sports betting. Lotteries alone were the only form of gambling which was allowed to operate and which bettors could partake in.
Luckily, the situation seems to have improved somewhat in modern times. In 2017, a five-year decree that legalized betting on international football, greyhound racing, and horse racing events was passed. Furthermore, the only permitted football events are ones under the control of FIFA. It is very restrictive in general as it only applies to casino hotels which are land-based gambling venues, but it is a step in the right direction either way.
As for wagering online, it is illegal at the time of writing. This, however, has not stopped bettors from wagering on foreign websites. In fact, the practice is quite popular in the country, and it is especially widespread among bettors who wager on their smartphone devices.
Vietnamese gambling enthusiasts can bet without getting caught thanks to VPNs which mask their location, and by utilizing e-wallets payment solutions as well as bitcoin services and pre-paid vouchers. All of these solutions prevent the gambling activity from being traced back to the user who partakes in it.
Vietnam Betting Restrictions
As previously mentioned, sports betting and gambling as a whole is a touchy subject to Vietnamese lawmakers. Although the situation is much better than it was before, when all games of chance bar the lottery were forbidden, the laws are still very restrictive when it comes to individuals who wish to partake in gambling activities.
First of all, stepping into a brick-and-mortar gambling establishment can be done under certain conditions. If bettors are Vietnamese, they must be 21 years old and have a monthly income of more than $450. Furthermore, they should not have a criminal record. Often, gambling aficionados will need written permission from their families as well. Apart from such individuals, foreign bettors without a Vietnamese passport can also wager at land-based establishments.
The consequences for breaking the law are quite harsh for both operators and punters alike. This is why it is wise to only partake in sports betting as a recreational player, seeing as winning or losing more than $2000 can result in a prison sentence between 2 and 7 years. Small-scale bettors, on the other hand, will typically just be fined if they are caught, although the money sum can be hefty.
Online Betting Regulatory Body in Vietnam
Although the National Assembly has legalized certain forms of wagering, it has yet to do so for any form of online betting. Thus, Vietnamese punters are currently left with no domestic options as far as bookmakers go, and no foreign online bookies can be licensed by a Vietnamese regulatory body either. This is why gambling enthusiasts from Vietnam will need to rely on foreign bookies that have been licensed by international gaming boards that are both trustworthy and credible.
In general, the most common international licenses bettors will come across are ones issued by the government of Gibraltar, the regulatory body of Curacao, and the Malta Gaming Authority. Curacao licenses do not have the best track record and are not regarded well in most betting circles, but it is still better to wager at a licensed bookie than at one that is completely unregulated. Gibraltar licenses, on the other hand, have a great reputation, and the same can be said about permits from the Malta Gaming Authority. If you come across a bookie licensed by one of these regulatory bodies, you can be certain that the websites in question can be trusted.
Popular Betting Markets in Vietnam
Football
Horse racing
MMA
eSports
When it comes to sports betting in Vietnam, no sport can even come close to soccer. This sport is practically a sensation in the online betting sphere of the country, which is why you will find that pretty much all Vietnam-friendly bookies have given it quite a bit of attention within their sports libraries. You will generally be presented with many markets seeing as both teams to score, outrights, Asian handicap, and draw no bet are all among the numerous options you can choose from. In terms of leagues, events pertaining to the UEFA Europa League, V.League 1, Vietnam Football Federation, Vietnamese Second Division, and the Thailand – FA Cup are covered among others.
Mixed Martial Arts is yet another sport you are very likely to find at Vietnam-friendly bookies. Leagues such as IMMAF, Ultimate Fighting Championship, and the Vietnam Mixed Martial Arts Federation are popular. Additionally, you will be able to find outrights, totals, Asian handicap bets, and more when it comes to markets.
Horse racing is also a beloved sport to many bettors in Vietnam. An abundance of bet types can be spotted within the libraries of Vietnam-friendly bookies, including win bets, parlays, totals, place bets as well as many more. Events on tracks from all over the world are covered, and the Racing League is one of the leagues that can be found.
Last but not least, eSports also keep getting more and more popular around the world, and Vietnam is no stranger to this trend. Vietnamese bettors will usually have an array of choices when it comes to the game events they can enjoy, and games such as League of Legends, Dota 2, Valorant, Starcraft 2, and many more will be present in the catalogs of bookies. Vietnam Championship Series, PUBG Mobile Pro League, and more are some of the options you will find in terms of leagues. Additionally, outrights, first map winner, totals kills, first baron slayed and more are available bet variations wise.
Popular Betting Markets in Vietnam Summary
Sport
Leagues
Soccer
UEFA Europa League, V.League 1, Vietnam Football Federation, Vietnamese Second Division, Thailand – FA Cup
MMA
IMMAF, Ultimate Fighting Championship, Vietnam Mixed Martial Arts Federation
Horse racing
Racing League
eSports
Vietnam Championship Series, PUBG Mobile Pro League, The Overwatch League, ESL Pro League
Vietnam Online Betting Bonuses
Promotions
Match Bonus
Free Bets
Enhanced Odds
The first type of promotions Vietnamese bettors can come across online are first deposit bonuses. As the name implies, you can receive these bonuses when you make your first deposit. This typically entails your bonuses being matched to a certain extent (either below or over 100%), although only under certain conditions. In general, you will have a limited time to take advantage of offers like this once you sign up. In addition, withdrawals will often have a rollover requirement. A minimum odds requirement is also quite common. Furthermore, read the terms and conditions carefully and check if the offer is available for all payment methods.
Referral bonuses are also something you will typically find at online bookmakers. These promotions involve getting an acquaintance of yours to sign up, often achieved by giving them a unique link. You will usually receive free bets for your trouble, and the winnings from said bets will be withdrawable only after a rollover requirement has been met. Furthermore, certain websites limit the number of people you are allowed to refer the sportsbook to, so it is a good idea to see if such a limit is present just in case.
Another type of promotion that focuses on regular customers is the so-called VIP program, also often referred to as a loyalty program. Sometimes you will be placed in such a system just by wagering, while other times you will need to opt-in. Either way, you will typically receive goodies such as free bets, boosted odds, bonus funds, and more. Keep in mind that, again, free bets will typically be subjected to a rollover requirement. Boosted odds will also often need you to make a bet of a specific amount.
Mobile Betting in Vietnam
Mobile Play
Download App
Browser In-Play
Download via QR
Wagering on mobile devices is huge in Vietnam, so much so that it is generally presumed that the majority of punters use their smartphones to place bets as opposed to using a computer.
It is thus crucially important for bookies looking to impress Vietnamese punters to provide well-made mobile solutions to their user base. One such method of catering to punters on the go is to make a mobile version of a bookmaker's main website. This method is convenient for those who would prefer not to download applications, and since it is still the same website, there are basically 0 differences between the desktop and mobile versions excluding the design and layout.
Bettors who would rather use downloadable applications, however, will not find any major differences either. These solutions are also pretty much the same as their desktop counterparts, but once again, mobile punters will be greeted with an optimized layout that will scale well on smaller screens. Such applications can often be downloaded directly from a bookmaker's website if a user utilizes an Android device, or from Apple's App Store for those who have iOS smartphones.
Whichever solution you go for, you can be certain that all of the functionality, financial methods, sports choices, and market options from the desktop version of the website will be at your fingertips regardless of where you are.
Popular Betting Banking Methods in Vietnam
Bank Transfer
Credit Cards
E-Wallet
Prepaid Cards
Banking solutions are typically one of the key aspects that can make or break an online bookmaker, but for Vietnamese punters, certain methods are far more crucial than they are for foreign bettors.
Gambling enthusiasts in Vietnam tend to value their privacy a lot more, and it is incredibly important for them to remain anonymous when they wager on sports events online. This means that although Visa and Mastercard solutions, as well as bank transfers, are available, most punters from the South Asian country will stay away from these methods.
Instead, Vietnamese bettors will typically turn to solutions that can manage their financial information and keep them fully anonymous from both bookmakers and anyone else that might be lurking.
The first such payment method is e-wallets. They are incredibly easy to use which is why they are the banking solution of choice for thousands of bettors worldwide, and Vietnam is no exception. Services such as Skrill and Neteller are especially popular, and they can be used to both transfer and withdraw funds. Skrill's 1-Tap option is a well-liked deposit-only choice. In addition, these methods also ensure a hassle-free experience for those who wager when they are out and about which is crucial in the Vietnamese market due to how widespread mobile betting is.
Another well-liked option that can be utilized for deposits is pre-paid vouchers, since they, as well, are very useful for privacy-conscious individuals. There are different solutions available, but generally, Paysafecard will be the most common method out there.
When it comes to anonymity, few services can beat cryptocurrencies, and they too enjoy quite a bit of attention from bettors residing in Vietnam. Certain websites will have more of an abundant selection than others, but you can always trust that the tried and true Bitcoin currency will be an option pretty much everywhere. Cryptocurrencies are versatile and you can use them for both deposits and withdrawals.
Popular Banking Methods in Vietnam
Payment Method
Fees
Deposit Limits
Deposit Times
Withdrawal Limits
Withdrawal Times
VISA
Free
$10 – $30,000
Instant
$10 – $30,000
1-5 days
Mastercard
Free
$10 – $30,000
Instant
$10 – $30,000
1-5 days
Maestro
Free
$10 – $30,000
Instant
$10 – $30,000
1-5 days
Skrill
Free
$10 – $38,000
Instant
$10 – $38,000
1-5 days
Skrill 1-Tap
Free
$10 – $13,000
Instant
N/A
N/A
Neteller
Free
$20 – $50,000
Instant
$20 – $50,000
up to 12 hours
Paysafecard
Free
$10 – $1,000
Instant
N/A
N/A
Bank Wire
Free
$50 – $100
2-5 days
$40 – $50,000
2-10 days
Bitcoin
Free
$20 – $100,000
Instant
$30 – $100,000
1-4 days
What to Watch When Picking Vietnam Betting Site
Security
Customer Support
Mobile Compatibility
In-Play Betting
Since Vietnamese punters have no domestic options to choose from, they will need to rely on foreign bookies. Luckily, there are plenty of Asian and international bookmakers in general that offer tons of features, but there are things a punter must pay special attention to when they are attempting to pick their future sportsbook.
First and foremost, Vietnamese punters should stray from websites that do not provide e-wallets, cryptocurrencies, or pre-paid vouchers as banking solutions. Utilizing one of these solutions is of utmost importance for all Vietnamese bettors because these services allow for anonymity, and will make it difficult for anyone to trace the wagering activity back to you. Using credit and debit cards is also possible of course, but they do not offer the same anonymity as previously mentioned methods so utilizing these payment solutions is very risky and not recommended.
Something else to pay close attention to is a website's sportsbook in and of itself. Does it have a convenient layout? Does it include the sports you absolutely need to wager on within its library? Are the sports in question full of a sufficient number of markets? All of these are questions you should ask yourself when you are trying to make a decision.
Lastly, make sure to check if a bookmaker is licensed by a regulatory body, and if so, which one. Licenses are a testament to the trustworthiness of a bookmaker and it is thus necessary for you to be certain that a bookmaker is licensed by a credible gaming board the likes of the Malta Gaming Authority. It is advised to stay away from bookies which have not acquired a license.
Best 10 Betting Sites in Vietnam
Wagering online is well-liked in Vietnam, and the pastime's popularity has only increased in recent years thanks to the rapid evolution of smartphones and just how accessible and portable online betting has become. Many great bookies take note of this, and we have compiled a list of the very best sportsbooks Vietnamese bettors can try out.
Dafabet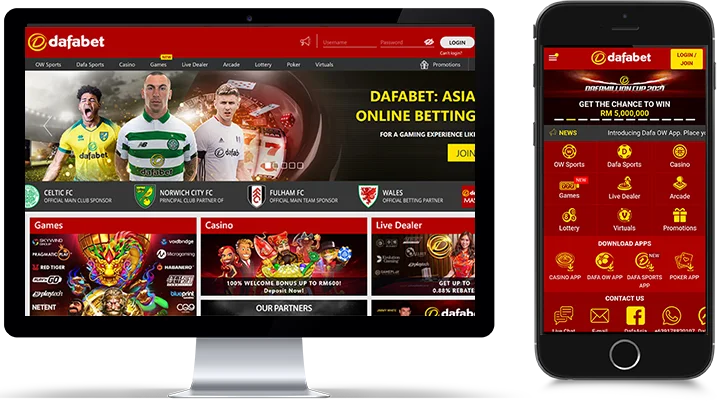 Dafabet is one of the top sports betting websites in Asia. The bookie offers a sufficient selection of sports and bet types. Football, basketball, cricket, and Mixed Martial Arts are just some of the sports you will come across, and you will have markets the likes of outrights and over/under among many more to choose from.
Visually, the website looks slightly overwhelming at first but navigating is quite hassle-free, and the red and yellow color palette makes for a fun atmosphere.
Since its customers are its number one priority, Dafabet has made sure to provide a variety of financial methods to the bookmaker's users. E-wallets such as Neteller, Skrill, and Ecopayz can be utilized, and cryptocurrency solutions like Bitcoin, Litecoin, Ethereum and more are all some of the options available.
Good customer service
Great mobile solutions
Many payment methods
Certain bonuses are restricted to specific currencies
Website design is overwhelming initially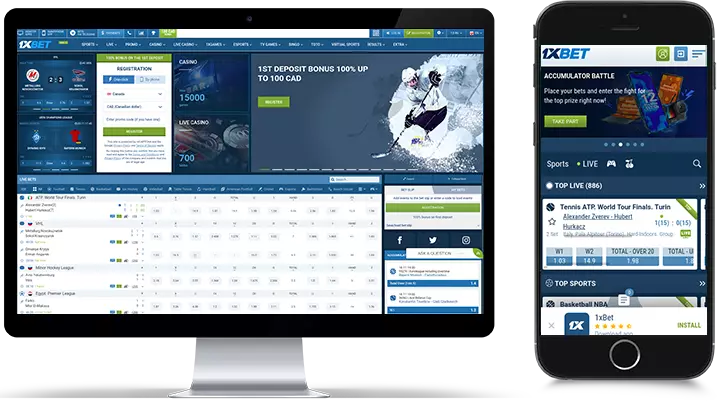 Established in 2007, 1xbet is a bookmaker which has a license by the regulatory body of Curacao. It features an excellent sportsbook that is certain to please any punter thanks to the variety that is on offer.
The bookmaker passes with flying colors when it comes to its customer service. There is a plethora of ways to get in contact with 1xbet's team, which includes email, live chat, telephone and you can even reach them on Twitter and WhatsApp. Once you do get in touch with customer support, you will find that your issues will be resolved in a timely manner by helpful staff.
In addition, the bookmaker has not neglected to consider that a significant number of its users will utilize the website on mobile. This is why there are dedicated applications that can be downloaded from the website and from Apple's App Store.
Many ways to contact customer support
Live streams
In-play is available
Cluttered visual design
Certain customers report slower than average withdrawals
M88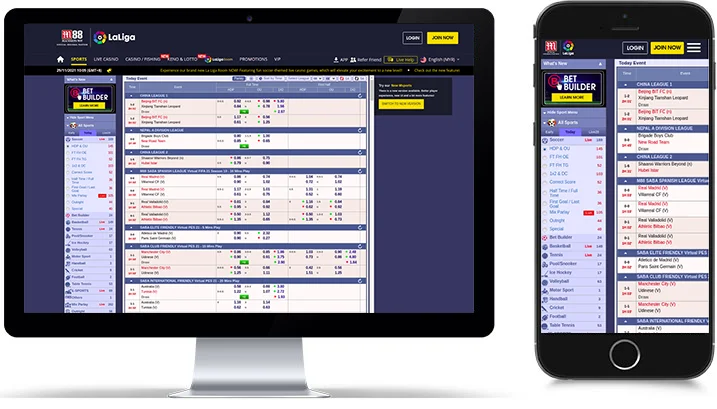 M88 is part of Mansion, a behemoth within the wagering world that has expanded its international reach by introducing this excellent bookmaker to the Asian sports betting audience. The website features an elegant design that is easy on the eyes, both in terms of how well it looks and its muted dark colors.
The bookmaker's eSports section in particular is a sight to behold thanks to its selection of over a dozen games to choose from. Giants like Counter-Strike: GO, League of Legends, and Dota 2 are accounted for, but titles you do not come across often on bookmakers such as HearthStone, Fortnite, Arena of Valor, and Valorant are also present among the many options you can pick from. Traditional sports fans should not be worried, however, as sports like soccer, basketball, and volleyball have quite the prominent presences in m88's library.
If you ever need assistance, m88's extensive help section is quite useful. Should that not be enough, however, contacting support is also quite easy since you can utilize either email or live chat depending on what you prefer.
In-play
Exceptional coverage of eSports events
Good selection of payment solutions
User experiences with customer support vary
Certain promotions are not available to Vietnamese punters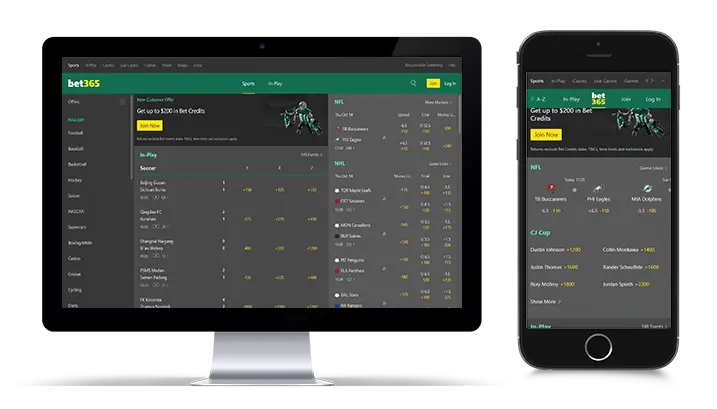 Bet365 has quite the name internationally, and for a good reason. This bookmaker has over 20 years of experience within the sports betting industry, and millions of punters online prefer it as their bookie of choice.
The website not only provides a great deal of entertainment, but it does so by keeping the data of its users safe and secure thanks to the utilization of SSL encryption. In addition, you can also be certain of the integrity of bet365 since it boasts various licenses from regulatory bodies all over the world including the Gibraltar Gambling Commission.
The bookmaker has also made sure that all of its customers can enjoy an excellent wagering experience regardless of which device they use. Bet365 is available as a dedicated application that can be downloaded from the Apple App Store, and simply using the website itself in its mobile mode is also a perfectly viable option. Either way, you will enjoy the same functionality and perks that are available to pc users.
Unmatched library of sports and markets
Convenient layout
Licensed by reputable gaming boards
Some promotions are country-specific
Certain users report having their accounts limed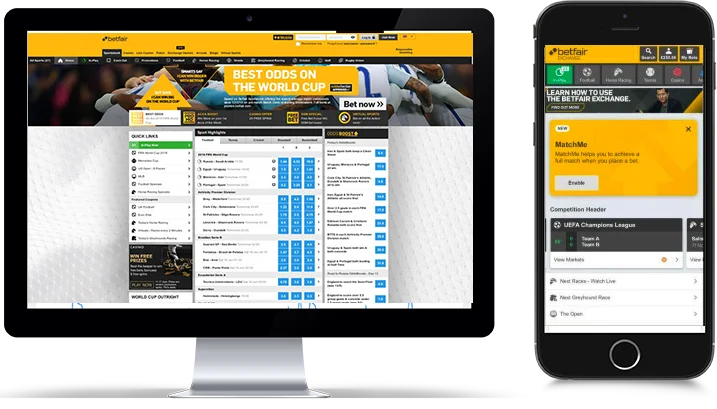 Betfair is yet another bookmaker that will be familiar to both western punters and bettors from Asia alike. The bookie's excellent reputation precedes it, as it is known to have a varied catalog of sports which will leave every punter satisfied.
Bettors are able to wager on sports the likes of soccer, greyhound racing, and mixed martial arts among others. Additionally, punters will come across various popular markets like handicap bets, moneyline, over/under, totals, and more. Furthermore, in-play is also an option for those who enjoy the thrill that comes with placing bets on live events.
Everything is easy to access as well since the website features a very well-organized layout that also looks great thanks to its black, yellow, and white color palette.
In addition, Betfair also includes a sufficient number of banking solutions. Vietnamese punters will be happy to know that e-wallets such as Skrill and Neteller can be utilized. You can also be certain that your financial and personal data will not fall into the wrong hands since the website utilizes SSL encryption.
Licensed by the MGA
Good mobile compatibility
Sufficient number of banking solutions
Very few eSports titles
American odds are not supported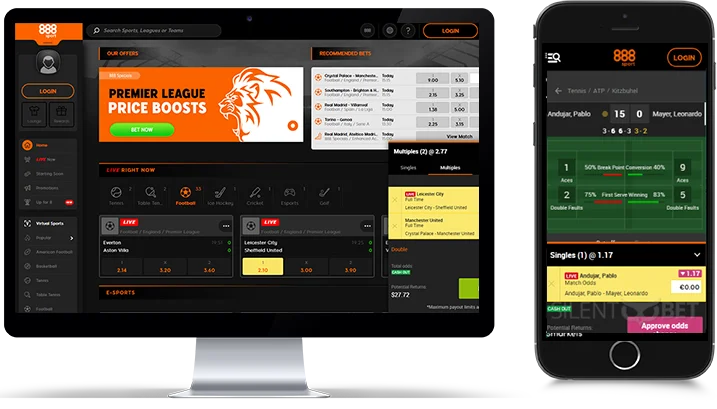 Founded in 2008, 888sport is quite well-liked within sports betting circles and it is not difficult to see why. The bookie is licensed by the Malta Gaming Authority as well as the Government of Gibraltar, so punters can rest assured that they are wagering at a reputable sportsbook.
The bookie's design is very modern, and you will be able to find popular sports like soccer, basketball, and greyhound racing along with options that are not as common such as trotting and surfing. Wagering on politics is also an option if you fancy a change of pace.
Although wagering at 888sport is hassle-free in general, there might be times where some additional information or assistance will be necessary. Luckily, 888sport features an in-depth help section that contains a lot of useful information. You can also always get in touch with someone from 888sport's support team by sending them an email if necessary.
Great visual design
Sufficient payment methods
Varied sportsbook
Website layout can be a bit confusing
No Malaysian, Hong Kong, or Indonesian odds
Sportsbet.io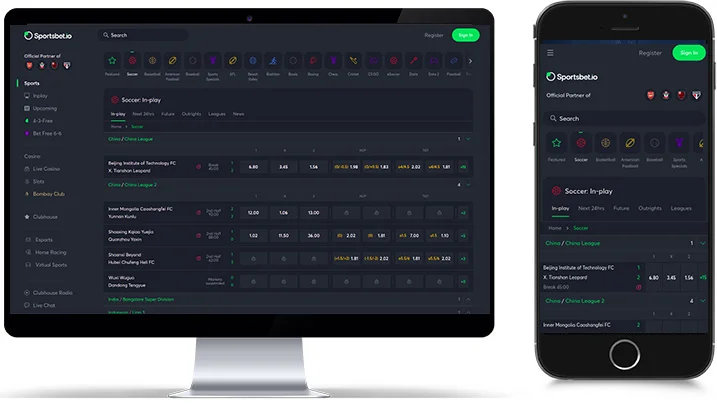 Sportsbet.io is a sportsbook that uses Coingaming.io's Bitcoin Gaming Platform. As you can see, it places special focus on Bitcoin and punters who prefer utilizing this payment solution when they wager online, which makes it a very future-proof bookie that is clearly keeping up with the times.
The website's layout is clean and to the point, and navigating through the menus is an absolute breeze. The same can be said when you load up the website on a mobile browser, seeing as it is optimized to look great on all screen sizes. In addition, you will also find that you will not be missing out in terms of functionality either because the entirety of the excellent sports catalog, payment solutions, and pretty much anything else can be accessed on the mobile website and on the smartphone applications.
Furthermore, you can also be certain that your time at sportsbet.io will be safe and secure thanks to the fact that the bookmaker utilizes SSL encryption.
Cryptocurrencies are available
Clean design
In-play
24/7 live chat support
No fractional odds
No live streaming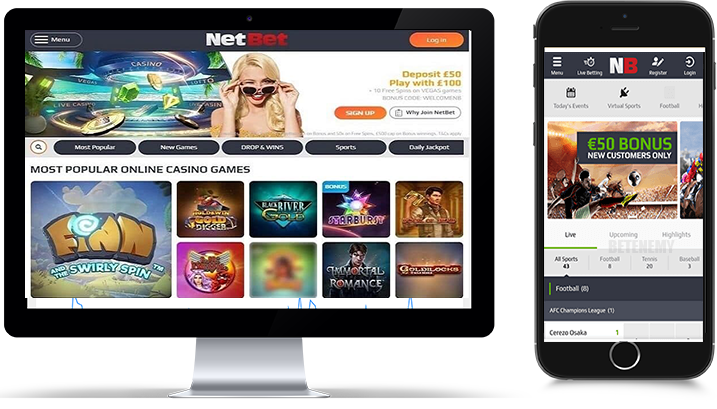 Netbet is a bookie with around two decades worth of experience in the world of sports betting. It is owned by NetBet Enterprises Ltd, and it offers a premium wagering experience thanks to its excellent betting software and conveniently placed bet slip.
Understandably, soccer is a major part of NetBet's sportsbook, and bets such as totals, double chance, draw no bet, and both teams to score are all available. Cricket, horse racing, American football, and ice hockey are among the many other sports you can wager on. You will also have access to features such as partial cash out and you will be able to place bets within the website's in-play section.
You can also rest assured that the wagering experience in question will be easy and with no issues since NetBet has made sure to acquire a license by one of the most trustworthy and credible regulatory bodies out there, the Malta Gaming Authority.
Partial cash out
Wide variety of sports
Licensed by the MGA
No live streams
Live chat not available 24/7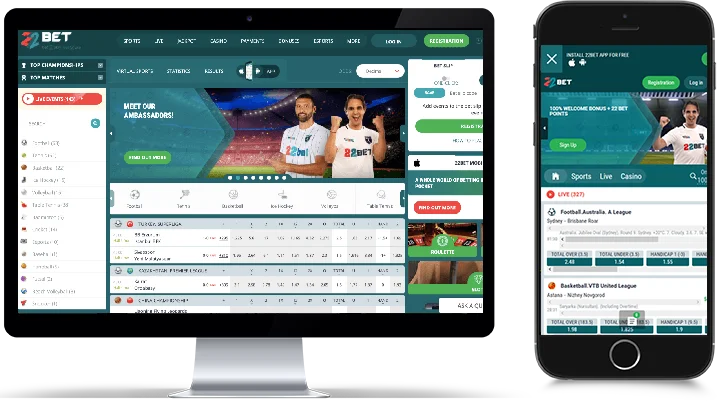 Established in 2018, 22bet is a fairly new but nonetheless famous bookmaker with a great reputation. Its catalog is full to the brim with interesting sports, like popular options such as soccer and tennis, as well as more unique choices like politics and curling. In addition, 22bet is licensed by both the regulatory body of Curacao as well as the Kahnawake Gaming Commission.
In terms of payment methods, you have a sufficient selection to work with. Bettors who prefer more old-school methods can opt for utilizing Visa or Mastercard credit and debit cards, although this is not advised for Vietnamese punters. E-wallets are also an option, however, and they are ideal for gambling enthusiasts who reside in Vietnam.
Last but certainly not least, 22bet provides an excellent range of ways to contact support. You can send them an email, or you could also go for the live chat option which is quite convenient and is available on the clock.
eSports
Live betting is available
Variety of ways to contact customer support
Some text is difficult to make out
Navigating the website can be confusing at first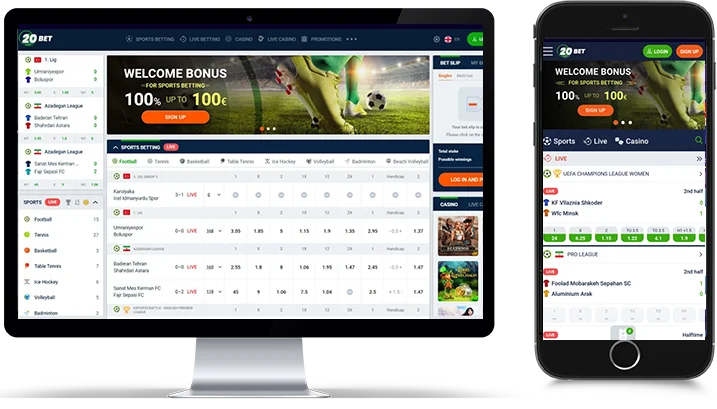 This bookmaker began its journey within the gambling sphere in 2020, which is quite fitting given its name. Its age must not fool you, however, since 20bet has proven to be a reliable sportsbook that provides a lot of entertainment to its users.
It features an excellent range of banking solutions which include e-wallet services the likes of Neteller and Skrill, and there are also a number of cryptocurrency options you can go with. Bitcoin, Litecoin, and Ethereum can all be utilized to deposit and withdraw your funds.
Doing so on the desktop is exceptionally easy, but the experience will be no different on your smartphone. The bookmaker can be downloaded from either the iOS or Android app store, or you could opt for using the website itself on your mobile browser of choice. Either way, you will find that wagering is a blast regardless of whether you are stick in traffic or at a restaurant.
Various cryptocurrency solutions
Great mobile compatibility
Useful betslip
Certain bonuses available only to selected jurisdictions
No other licenses besides Curacao
Vietnam Betting Sites FAQ