Betting on sports has been a favorite pastime for Scottish people and across Great Britain for more than 50 years but the surge of the Internet in the past 20 years revolutionized the betting and gambling industries. Now, some of the world's largest online bookmakers are based in the United Kingdom and are available to Scottish punters, as well.
Sports wagering is a legal and fully regulated activity in Scotland. In fact, when we are discussing the Scottish betting scene, we must mention that Scotland is a part of the United Kingdom and this industry, as well as all gambling activity taking place here, is regulated by the UK Gambling Commission. Having clarified that, we can continue to point out that sports have always been an important part of Scottish life and culture. It is then hardly a surprise that betting on the outcome of a soccer match, for instance, has also been a preferred form of recreation among Scots.
Legalities of Online Sports Betting in Scotland
Overview
History
Legalization
Software
Historical Betting Overview
Gambling and betting on horses and cockfights were quite popular in the Middle Ages and people of all classes in all of Scotland. The first written evidence for the prevalence of this form of recreation was in law against gambling from the 12th century, which banned games of chance – there was an exception for noblemen, of course, who were allowed to bet up to 20 shillings in any consecutive 24 hours. If they wagered more, they were required to give all winnings plus another 100 shillings to the church but there were even more severe punishments for those who were found breaking the law.
This, of course, did not stop people from betting on all sorts of things. Later, legislation passed during the reign of Richard II (late 14th century) banned gambling, except on non-work days. King Henry VIII, a famous gambler, also restricted gambling to the royal court. With the industrialization of the country, gambling became more organized and it was no longer considered an evil, pointless activity. In the 17th century, people started betting on organized horse races, lotteries, and other events – gambling establishments started opening at this time, too.
Bookmaking, however, did not actually come into being until the 18th and 19th centuries when bookies started offering prices on all horses in the now bigger, formal horse racing events. They took wagers on all horses to guarantee that they would always end in profit. It is believed that multiple sports, including horse racing, cricket, golf, and boxing became popular among people because of the option to bet on them.
What You Need to Know about Sports Betting in Scotland
Sports betting is a source of both entertainment and good profits for experienced punters. If you are new to it, and you are in search of a couple of tips to follow for the specific aspects of sports betting in Scotland, then you may find this article interesting and useful.
Among the four countries, making up the United Kingdom, Scotland is the leading one, when it comes to a percentage of its population (65%) that wagers on a regular basis. The minimum age when sports betting is considered legal is 18, and the legal authority that oversees and vets both land-based and online sportsbooks in Scotland is the United Kingdom's Gambling Commission.
For starters, you need to define a budget for sports betting, which you should try to observe and abide by. Be aware that losing is always an option, so you should consider the money as an investment for future profits.
Selecting a sport to wager on, which you are keen on and follow, is another step in the road to success. Sportsbooks offer a great variety of sports to choose from, including football, basketball, golf, horse and greyhound racing, cricket, tennis and many others. Chances to win are much better if you are familiar with the sports' rules and the variables that must be considered when placing a bet.
One should also be careful when choosing a sportsbook to open an account with. Top-rated and reputable sportsbooks offer great value for money, as well as security and peace of mind. Among the possible choices for Scotland are Unibet, Betfair, Ladbrokes, Redbet, and Betfred, to name a few.
Odds Format in Scotland
Decimal Odds
Fractional Odds
American Odds
Calculations
The vast majority of betting shops and betting sites available in Scotland show the odds in two main formats – as decimals and fractions. Just like in all of Great Britain, the Scots have a preference for the fractional odds and this is the most widely spread type of odds here. But what is the difference between these two formats? Moreover, what are the American odds?
The format of the odds shows how much we could win if we make a certain bet. The three different formats simply focus on different things – the American odds, for instance, indicate how much we need to wager to win $100 or how much one could win after betting $100. This depends on the positive or negative sign of the odds – it could be -650 for the favorite and +455 for the underdog, for example. With decimal odds, which are used all over Europe and most of the world, we have a decimal number, representing the amount we could win for every $1 wagered.
When we have fractional odds, on the other hand, we have odds such as 10/11 or 6/1 – sometimes, these could be 10-11 and 6-1. The first number of the fraction simply shows the amount we could win, whereas the number on the right side of the fraction shows the amount we need to wager. In other words, we could win $10 for every $11 we wager or we can get $6 for every $1 bet.
Scotland Betting Laws and Legislation
For a large period of time, betting on sports and gambling as a whole was not entirely legal in Scotland and there were multiple restrictions on these activities, as we have already mentioned. After centuries of being a gray area in terms of legality, betting was at one point completely banned. With the early 19th century came the anti-gambling attitudes and the prohibition – in 1845, the Gaming Act was passed, while the 1853 Betting Houses Act closed down all betting shops across Scotland and all of Great Britain. It prohibited almost all forms of gambling and focused on eliminating the gambling activities enjoyed by the lower classes.
It all changed in 1960 with the passing of the Betting and Gaming Act – betting shops opened in May 1961 for the first time after more than a century. Private casinos were also legalized. Within the next four years, local magistrates had issued around 16,000 licenses. In 1994, the government-run lottery was launched. However, the Licensed Betting Offices Regulations of 1986 imposed certain restrictions on the betting shops across Scotland – they were required to close between 7 pm and midnight, to display the legal age for betting (18), while the advertising outside the shop is extremely limited.
Today, the gambling sector is regulated by the UK Gambling Commission (UKGC), which was established in 2007 under the Gambling Act 2005. As an Act of the Parliament of the United Kingdom, this is the main piece of legislation that controls all gambling and betting operations in the country, including Scotland.
The Act grants licensing authority to local bodies and Scottish licensing boards. It allows gambling and betting advertisements on radio and television. It also controls online gambling and betting. Several updates to the legislation were made in 2014 with the Gambling Licensing and Advertising Act. It required all offshore operators to apply for a license from the UKGC and to pay a 15% point of consumption tax on gross profits. The restrictions on ads were changed or removed altogether.
According to the current legislation, all individuals at the age of 18 and over can legally place a wager in Scotland. There is no tax on winnings generated from lotteries, betting on sports, or casino gambling.
Scotland Betting Restrictions
There are not many restrictions on sports wagering in Scotland, at least when it comes to the types of bets that can be placed by punters. As we have said – betting on the outcome of a sports event is legal to anyone over 18. In fact, while the legal age for betting on sports, casino games, and gaming machines is 18, it is only 16 when it comes to taking part in lotteries, scratch cards gambling, and soccer pools (referred to as football pools). Online betting falls under the 18+ category, however.
Both land-based and online wagering is allowed and there are no taxes on the winnings from such activities. Bettors can place all kinds of bets and are not restricted to the type of sports and leagues they can wager on. There are, on the other hand, a wide range of restrictions when it comes to operating a betting business, whether land-based or online.
First of all, bookmakers are not allowed to operate without a proper license. They cannot offer their services and permit children (younger than 16) or young persons (those below 18) to enter their premises. If they fail to observe these basic rules and allow underage gambling, for instance, they face huge fines with no upper limit and even imprisonment for a term of up to 51 weeks. Due to the strict laws against underage gambling and betting, online bookmakers, casino and bingo sites are required to carry out extensive age and identity verification procedures.
During the registration of a new customer, they need to acquire a copy of the person's ID. Sites can ask for different types of documentation, including passports, a photo card driving license, a utility bill in the customer's name, an ID card, or a copy of the customer's credit or debit card.
Online Betting Regulatory Body in Scotland
All gambling activities in Scotland are regulated by the UKGC. This includes sports betting, of course, so whenever the Commission issues new rules and regulations regarding the sector, all gambling and betting operators across England, Wales, and Scotland have to comply. The Commission was set up in 2007 as a replacement for the Gaming Board for Great Britain. The government agency is an executive non-departmental public body within the Department for Culture, Media and Sport.
It supervises the gaming law in the country and is also responsible for almost all forms of gambling, including bingo games, lotteries, gaming machines, casino gambling, sports betting, and remote gambling. However, there is one important exception – spread betting in Scotland and in the UK is regulated by the Financial Conduct Authority.
All online betting operations are effectively being regulated by the UKGC. Certain gambling jurisdictions have been approved by the government and white-listed by the Commission, too. Therefore, operators with a license from one of the regulatory bodies on the white list are also authorized to offer betting and gambling services to customers based in Scotland and the UK.
The list includes the Alderney Gambling Control Commission, the Directorate of Offshore Gaming in Antigua and Barbuda, the Gibraltar Gaming Commissioner, the Gambling Supervision Commission on the Isle of Man, the Tasmanian Liquor and Gaming Commission, as well as jurisdictions within the European Economic Area (EEA).
Popular Betting Markets In Scotland
Football
Horse Racing
Boxing
Greyhound Racing
Scotland is among the countries where placing bets on sports events has always been a popular form of recreation and entertainment.
Scottish football leagues that punters can choose to wager on include the Scottish Professional Football League, Scottish Premiership, the Highland Football League, and the Lowland Football League, among many others.
For those keen on placing bets on tennis, there are also a variety of leagues to choose from: Australian Open, French Open, US Open, Wimbledon, ATP Indian Wells, Alicante Challenger, ITF tournaments, etc.
When it comes to horse racing, Ayr Racecourse, Hamilton Park, Kelso Racecourse, Musselburgh Racecourse and Perth Racecourse are the five major race courses in Scotland. Punters may choose to bet on flat racing, jump racing and mixed racing. Among the popular tennis leagues to follow are: William Hill Racing League, Royal Ascot, Cheltenham, Epsom Derby, and the Grand National.
Another popular sport in Scotland is greyhound racing, and the biggest dog race, the Derby, offers punters the chance to place a bet or two whenever they feel like it.
Scotland is considered to be the home country of golf and punters get a decent variety of golf tournaments to follow and bet on. The Open Championship, Johnnie Walker Championship, 2014 Ryder Cup, the Scottish Open, Alfred Dunhill, and Links Championship are the five major golf tournaments that take place in Scotland on an annual basis.
Basketball is yet another sport giving punters the chance to bet on their favorite sport, and some of the basketball leagues of Scotland include the Scottish Basketball Championship, the Scottish Mens' National League, Soho Wealth SBC Women, Soho Wealth SBC Men. Other sports that are presented as options to choose from in sportsbooks include ice hockey, snooker, cricket, darts, e-sports, etc.
Popular Betting Markets in Scotland Summary
Sport
Leagues
Football
The Scottish Professional Football League, Scottish Premiership, the Highland Football League, the Lowland Football League.
Tennis
Australian Open, French Open, US Open, Wimbledon, ATP Indian Wells, Alicante Challenger, ITF tournaments.
Horse racing
William Hill Racing League, Royal Ascot, Cheltenham, Epsom Derby, the Grand National.
Greyhound racing
Greyhound Derby and races taking place in the Hove, Newcastle, and Central Park.
Basketball
The Scottish Basketball Championship; The Scottish Mens' National League; Soho Wealth SBC Women; Soho Walth SBC Men
Golf
The Open Championship, Johnnie Walker Championship, 2014 Ryder Cup, Scottish Open, Alfred Dunhill, Links Championship.
Scotland Online Betting Bonuses
Promotions
Match Bonus
Free Bets
Enhanced Odds
Scottish bettors who choose to place wagers online can enjoy a wide range of bonuses and promotions offered by bookmakers. Due to the newly introduced age and identity verification procedures and the policies for fair play accepted by the UKGC, however, new members at betting sites will not be able to claim a bonus before they pass all verification procedures.
In the past, betting operators could accept deposits by users with unverified accounts – this, of course, has led to issues of varied nature, including customers who find themselves unable to claim a bonus or with their deposits being forfeited. Now, following the standard verification check, bettors can take advantage of various promotional offers. This includes, of course, welcome bonuses, which may be in the form of a certain percentage (50%, 100% or even 200%) of the initial deposit into the website. More often, the sign-up bonus is a free bet, which is granted after the full amount of the initial deposit has been wagered at least once.
Bettors should be aware that there are usually requirements for the minimum odds bets should be placed at when using a free bet. In addition, the free bet or match deposit amount is normally subject to a wagering requirement – this means that before a withdrawal, bettors need to wager a minimum amount equal to 3, 5 or 10 times the amount of the bonus. Certain deposit options – usually e-wallets such as Neteller and Skrill, may not qualify for a bonus.
Along with the sign-up bonus, online bookmakers catering to betting enthusiasts in Scotland also tend to offer reload bonuses, cash-back offers, weekly free bet bonuses, or limited-time promotions associated with major sports events such as FIFA World Cup or the Olympic Games. Price boosts and enhanced odds are also often offered.
Mobile Betting in Scotland
Mobile Play
Download App
Browser In-Play
Download via QR
With the improvement of mobile technologies in the past few years, it is now possible to do almost anything from a smartphone. For younger people, especially, their mobile devices are essential – they can communicate on the go, they can shop online, pay their bills, use various apps, etc. Of course, an increasing number of people these days prefer to bet on mobile platforms, too.
Bettors in Scotland can choose from dozens of reputable, top-quality mobile betting apps and betting sites that have been fully optimized for smartphone use. There are no specific things bettors should be aware of when accessing a betting platform from their mobile phone – with a few notable exceptions. First of all, betting fans should make sure that the bookmaker is fully licensed and regulated – by either the UKGC or in any of the white-listed jurisdictions.
Mobile security should also be an important concern and all licensed operators have taken various measures to make sure that their customers' sensitive data is kept private and fully protected. Some offshore bookies, however, are not legally allowed to offer online or mobile betting to Scottish residents. Still, they do exist and they rarely focus on the safety of the punters, on fairness, or on online and mobile security. Bettors in Scotland should simply try to avoid them at all costs.
Popular Betting Banking Methods in Scotland
Bank Transfer
Credit Cards
E-Wallet
Prepaid Cards
The development of not only mobile technology but also of modern electronic payments has completely changed the betting industry in the past ten years or so. Online bettors in Scotland now have plenty of options when it comes to loading their betting balance with funds or when they wish to retrieve their winnings.
Along with the traditional bank wires, they can make deposits and receive payments to their debit or credit cards. Most international brands are available, including Visa, Mastercard, Maestro, American Express, Diners Club, and JCB. More and more punters, however, prefer using digital wallets for their betting activities on the Internet since they are not required to share their personal information with third parties. There are various e-wallets in Scotland but the most popular ones are probably PayPal, Neteller, Skrill, and ecoPayz.
Some online bettors find prepaid vouchers and reloadable cards to be even more secure. These could be the prepaid solutions by Paysafecard or Entropay, a prepaid virtual Visa card. There are also various convenient and easy-to-use services for instant bank transfers such as Trustly, Nordea, and UseMyBank. Those who prefer to instantly deposit or withdraw their winnings could use a mobile payment option such as Boku or Apple Pay.
Normally, the fastest transactions are secured by e-wallets – the deposits into betting sites are instant, while withdrawals usually take up to 4 hours to arrive. There are almost no fees involved and the payments are completely reliable and secure. However, the fastest, cheapest and most secure way to transfer funds to and from an online betting account is by using a cryptocurrency. Bitcoin is certainly the most popular one, but bettors in Scotland can also deposit and cash out their winnings via Litecoin, Ethereum, and many more.
Popular Banking Methods in Scotland
Payment Method
Fees
Deposit Limits
Deposit Times
Withdrawal Limits
Withdrawal Times
Visa Debit
Free
Min £5.00/Max £20,000.00
Instant
Min £5.00/Max £20,000.00
1-5 Banking days
Apple Pay
Free
Min £5.00/Max £5,000.00
Instant
Min £5.00/Max £2,000.00
2-3 working days
PayPal
Free
Min £10.00/Max £5,500.00
Instant
Min £10.00/Max £5,500.00
Within 24 Hours
Google Pay
Free
Min £5.00/Max £5,000.00
Instant
N/A
N/A
Paysafecard
Free
Min £5.00/Max £770.00
Instant
Min £5.00/Max £2,000.00
Within 24 Hours
Click to pay
Free
Min £5.00/Max £5,000.00
Instant
N/A
N/A
Bank wire
Free
Min £100.00/Max £100,000.00
2-10 Banking days
Min £5.00/Max £100,000.00
1-5 Banking days
Cheque
Free
Min £100.00/Max £50,000.00
5-28 Banking days
Min £100.00/Max £50,000.00
5-28 Banking days
* Please note that e-wallets can also be used for deposit purposes, as long as they are not funded via credit cards.
What To Watch for When Picking a Scottish Betting Site
Security
Customer Support
Mobile Compatibility
In-Play Betting
When you are about to make a choice of a sports betting operator in Scotland, you need to consider several important aspects. Be careful to make an informed choice, because after all, it is your hard-earned money you are betting with.
Scotland's online sportsbooks are regulated by the UK Gambling Commission, so the presence of its logo in the sportsbook's website is a sure sign of legality, trustworthiness and security.
The Financial Conduct Authority, on the other hand, is the authority, which is responsible for overseeing spread betting. Bets placed on greyhounds are regulated by the Greyhound Board of Great Britain, while those on horse racing – by the Horserace Totalizator Board.
When you are about to make a choice of a sports betting online provider, another important aspect to take into account is the range of currencies it offers, and more specifically, for the Scottish market, if the pound sterling is among the possible choices. By ensuring this, you are saving money on currency conversion expenses.
Before you sign up for a given sports betting operator, do not forget to check the information provided on withdrawal times. These may vary, depending on the withdrawal requests that the sportsbook receives at the time. Usually sportsbooks examine and process withdrawal requests within 24 hours. Friendly and responsive customer support is yet another sign of a good sportsbook.
Reputable sportsbooks have a wide range of sports on offer ready for bettors. What is more, unlike other countries, punters in Scotland are allowed to place bets on all kinds of sports, so this provides you with unlimited choices. Scotland's most popular sports to opt for include but are not limited to football, horse and greyhound racing, golf, tennis, basketball, etc.
Yet another factor to take into consideration is that punters from the United Kingdom are not able to make deposits via credit cards. Please note, that e-wallets can also be used for deposit purposes, as long as they are not funded via credit cards.
As long as the online sportsbook is licensed and regulated by the respective authority, there are positive reviews and comments by other punters, as well as clear terms and conditions described in detail in the relevant section of the website, one should rest assured of the operator's legitimacy and security.

Best 10 Betting Sites in Scotland
We have prepared a list of 10 top-ranking sportsbooks, providing Scottish punters with great diversity of sports markets and bet types. You are welcome to review it, and opt for an operator who best suits your personal requirements.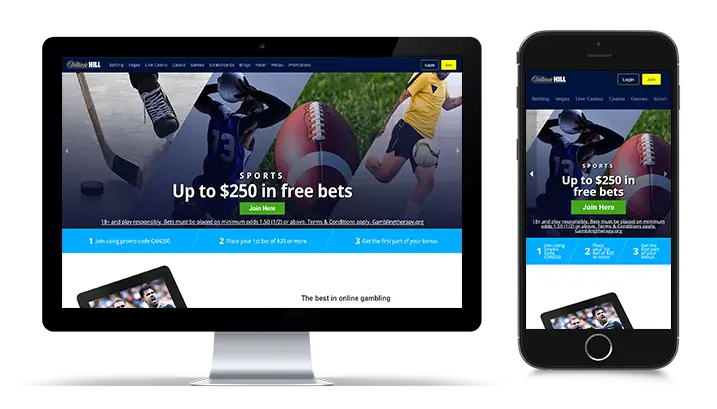 Founded back in 1934, William Hill's long history is indicative of the sportsbook's legitimacy and credibility. By taking a quick look at the comprehensive sports section, Scottish punters may easily find their favorite sport such as football, golf, greyhound racing, horse racing, ice hockey, tennis and many more.
The sportsbook's software is developed and maintained by OpenBet, so punters may rest assured that they operate with integrity and sustainability in mind.
Bettors may choose among different deposit methods, including transfers via Maestro, Mastercard, Neteller, Trustly, ecoPayz, Apple Pay and many others, while the withdrawal options include Maestro, Neteller, PayPal, InstaDebit, Visa, Skrill, William Hill cash direct, etc.
User-friendly betting interface
Quality software providers used
Accessible on mobile devices
Live chat and good customer support
Accessibility not available for many countries
Bonus offers limited
Live streaming on the mobile app is not available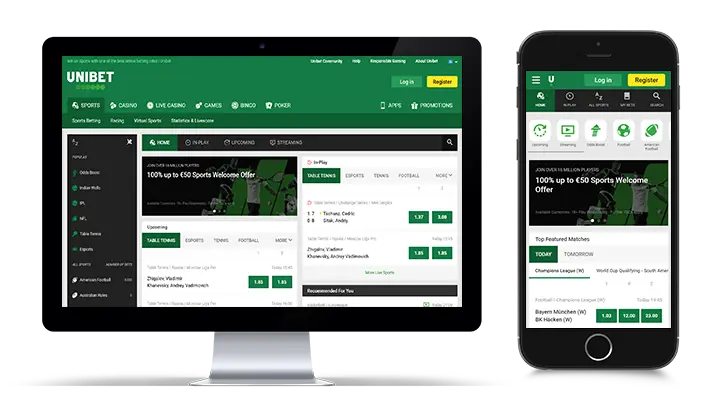 Unibet has been catering to the needs of over 31 million users since 1997. Licensed both by the UKGC and the Gibraltar Gaming Commission, Unibet's claim to reputation remains unstained over the long years of its existence.
In case punters come across any obstacles and problems, Unibet's live chat service is there to help and support. Another great feature which distinguishes Unibet is its ACCA insurance, offering punters an insurance related to accumulator bets.
Unibet offers both popular and less common sports, available for betting. The operator's extensive list of sports includes basketball, boxing, cricket, football, golf, greyhound racing, horse racing, ice hockey, volleyball, and many others.
Betting insurance options available
In-Play, Upcoming and Streaming sections
Commitment to safer betting
Live streaming and live betting
Commission levels may fluctuate
A variety of bets are not present on Unibet exchanges
Premium charges might be imposed on successful bettors.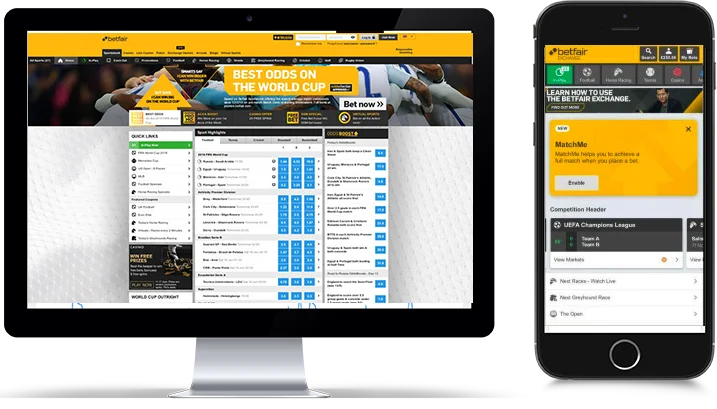 Betfair is undeniably among the market leaders, not only on local but on a global level too. As an operator boasting of paramount reputation, Betfair offers its users a number of betting insurances, including ACCA insurance, Faller insurance and First GoalScorer insurance.
It goes without saying that a high-class operator such as Betfair offers an enviable diversity of betting markets, so Scottish punters will surely find their favorite sports available for betting.
Either by the live chat service or by phone, Betfair provides excellent customer care, ensuring that issues are resolved by its employees in a quick and professional manner.
As far as deposit options are concerned, Betfair offers a choice between PayPal, InstaDebit, Neteller, Skrill, bank transfer, etc. For the lucky ones, interested in withdrawals, the operator offers PayPal, InstaDebit, Neteller, Skrill, as well as bank transfers.
Market leader with a long history of operation
Software powered by OpenBet, ensuring an impeccable betting experience
Fully compliant operator with licenses from the United Kindgdom Gambling Commission (UKGC), the Malta Gaming Authority (MGA), the Danish Gambling Authority(DGA), the Agenzia delle dogane e dei Monopoli (ADM), and the Directorate General for the Gegulation of Gambling (DGOJ).
Round the clock Customer support, telephone number and e-mail
Cluttered website design
Dedicated telephone number is not active 24/7
Negative reviews by users at Trustpilot concerning customer support and payouts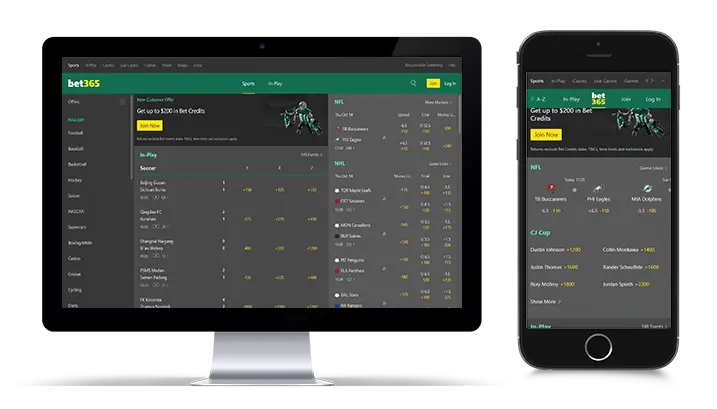 Bet365 is yet another online based sportsbook, offering both experienced and novice gamblers a chance to explore their luck and knowledge of the sports betting world. As far as sports are concerned, users can take advantage of an astonishing diversity of markets such as football, horse racing, greyhound racing, tennis, golf, e-sports and many others.
The diversity of betting options is yet another advantage of the sportsbook, featuring full-time results, half-time results, both teams to score, just to mention a few. The ability to choose live betting also enhances the thrill that users get to experience with bet 365.
Another great feature adding value to this sportsbook is the availability of over 20 languages for users to pick from, as well as the various options for currencies.
Best known for sports betting and a staggering number of betting markets
Life-streaming functionality available for mobile devices as well
Outstanding customer support
Negative reviews from users of the betting platform and the mobile application
Long and demanding verification upon withdrawal
Cases of blocked accounts with no apparent reason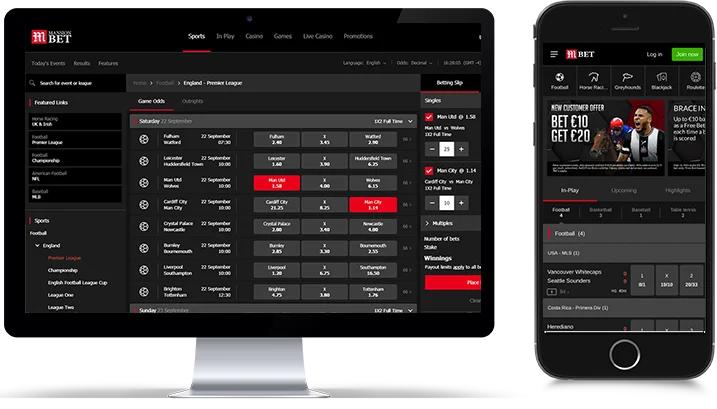 Apart from the wide selection of betting markets on offer at MansionBet, the sportsbook also prides itself on winning the Best Customer Service Company Award, received at the international Gaming Awards in 2020.
Fans of Football betting can opt for different types of bets including match betting, over-under goals bets, first goal-scorer betting, football accumulator betting, both teams to score, etc. Other sports such as tennis, basketball, golf and e-sports receive a decent coverage by the sportsbook.
The Statistic Tooltip is a great feature of the sportsbook, and provides an in-depth statistics regarding different sports markets, neatly organized by countries.
Award-winning sportsbook operator
Statistic Tooltip feature
Software developed by SBTech, ensuring adjusting of the settings for the odds changes.
Withdrawal issues experienced by some users
Restrictions on maximum bets
Sometimes there might be additional charges depending on your betting position.
Ladbrokes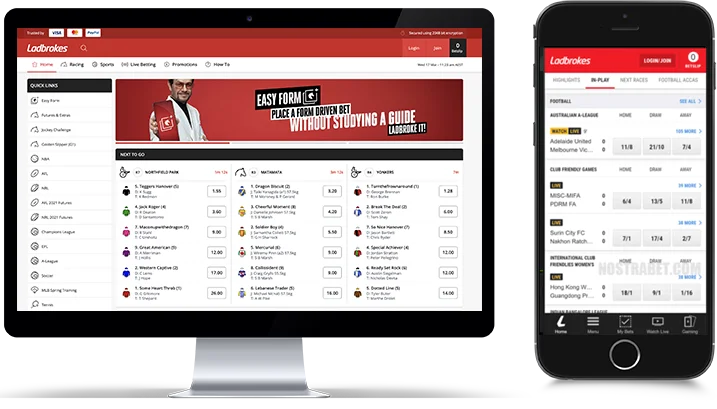 Ladbrokes is sure to live up to the expectations of sports betting enthusiasts. Apart from the top odds offers, the live streaming video coverage 24/7, the live betting and in-game betting are other great features that are worth-mentioning.
Whether you are a fan of football, tennis, ice hockey or golf, or you prefer betting on athletics, badminton, darts, chess, boxing or cricket, Ladbrokes has your gambling needs covered.
Another nice feature of the operator is the section dedicated to explaining the rules of play for different sports, as well as the betting options available according to the selected market. For example, as far as football is concerned, inexperienced bettors may find useful information about half-time betting, both teams to score, total goals – over/under, team to score first/second/next goal, first in a half, etc.
A long-standing, well-known and trusted brand
Licensed by the UK Gambling Commission and the Gibraltar Gaming Authority
Numerous kinds of sports, available for live, in-game betting
Customers' complaints about withdrawals
A lot of country restrictions
Customer support not available 24/7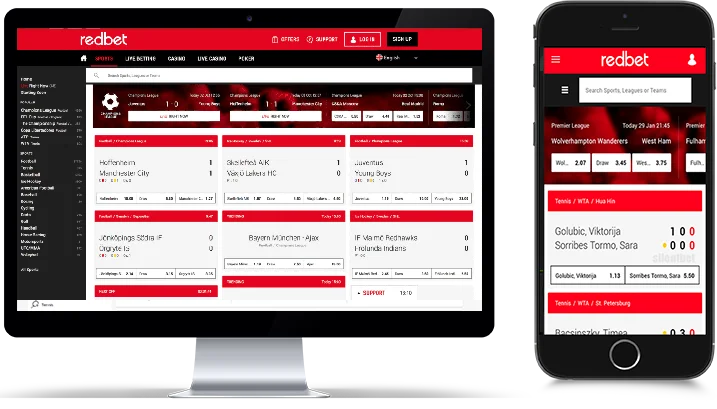 Established back in the early 2000s, Redbet is a prominent, well-known and trusted brand, which is really worth-checking. Punters who are keen on sports betting will be surely glad to discover the diversity and good coverage of all markets – from football, boxing, golf, basketball, and ice hockey through to tennis, cricket, e-sports, volleyball, and handball, among many others.
A feature that is sure to attract the attention of sports betting enthusiasts is the live betting section of the website, as well as the numerous live betting options to pick from. Upcoming sports events also get due attention and are at the disposal of the operator's users.
Another great advantage of the sportsbook is its easy-to-operate mobile version, as well as the hassle-free switching between the three odds formats – fractional, decimal and American.
Authorized by the UK Gambling Commission and the Malta Gaming Authority, the operator provides full peace of mind and security to punters
Accessibility via mobile devices
An exhaustive FAQ section, live chat available
User-friendly, uncluttered web design
No iOS App available to download
There is no dedicated phone number for customer support
A limited choice of payment methods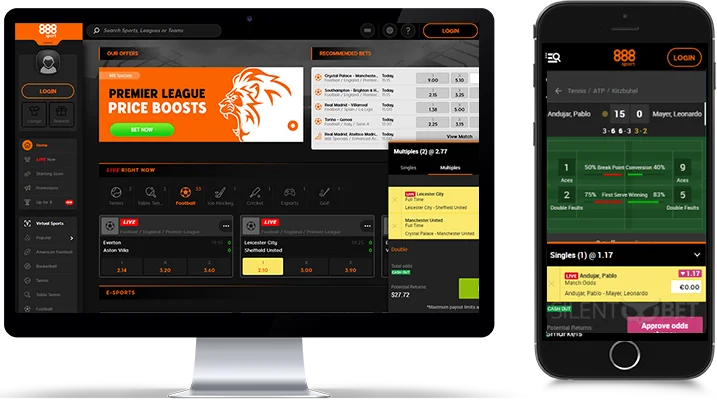 Bettors in search of a reputable and secure online betting provider, yet one that is innovative and customer-oriented, might be thrilled by 888sport. The sportsbook offers a plethora of live and pre-match markets, available at the most competitive odds.
The website, as well as the mobile version and the app are easy-to-use. Punters may rest assured that transactions are carried out in a safe manner, and the operator provides various payment methods to pick from. Punters may choose between the three standard odds formats – American, decimal and fractional.
Another great feature worth-mentioning is the round the clock customer support.
A reputable brand, one of the oldest in the industry
Android and iOS apps available
Varied banking alternatives
24/7 customer support
A limited range of currencies
The live chat function is not easily accessible
Deposits made via PayPal, MuchBetter, Paysafecard, Neteller and Skrill are excluded from some promotions
Betfred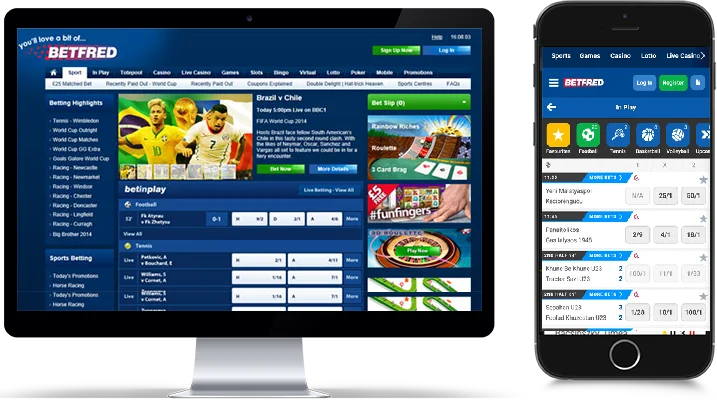 Established back in 1967, Betfred went online in 2004, in order to serve the sports betting needs of its customers. Although the sportsbook has a multitude of betting options readily available to its users, they are easy-to-find and navigate, as they are organized in a neat manner.
Those keen on horse and greyhound racing, darts and snooker, will be pleasantly surprised by the operator's coverage of these sports. The sportsbook also focuses on football and tennis, although other sports get a decent representation as well.
The live betting feature also adds to the thrill and excitement that sports betting is famous for.
Superb betting experience, secured by SSL encryption technology
Licensed by the UK Gambling Commission and the Gibraltar Remote Gambling Commission
Numerous, neatly organized betting options
Native mobile app for Android and iOS, link available in the website
International sports need to be further developed
The number of markets on offer could be improved
Paddy Power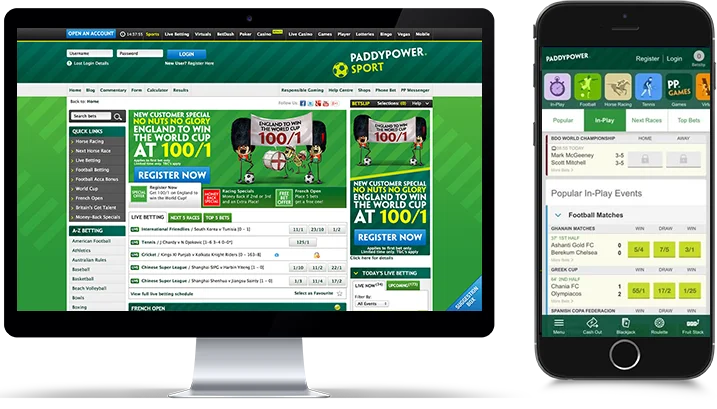 Bettors who pick Paddy Power will be surely fascinated with the variety of in-play bets that can be placed during a live streaming of a sport event. The available banking methods, both in terms of deposits and withdrawals, are diverse and secure.
The website offers easy navigation, as well as hassle-free switching between fractional and decimal odds. The design and layout are quite innovative, intuitive and uncluttered.
Punters who have selected Paddy Power get to enjoy also nice features such as the links for the football stats, the bet calculator and the betting rules, explained in detail. Furthermore, the live streaming stands out with its exceptional quality.
Novelty bets are highly promoted
A wide variety of football markets and bet types
Live streaming platform of very high value
Fresh, great looking website design
In-play section could be expanded
Limits might be imposed on bettors who win too much
Cryptocurrencies are not accepted
Scotland's Betting Sites FAQ