MuchBetter is a payment service like no other. Unlike the multiple e-wallets on the market today, MuchBetter is not a payment solution that can be used for sports betting in addition to its main function. No, it is a digital wallet that was specifically created to serve the needs of online punters, pleasing them with some innovative features and a rewards program. It is accepted by betting platforms all around the globe (with a few exceptions) and allows for instant deposits, fast withdrawals, mostly free of charge transactions, and even special promotional offers. You cannot wait to learn more about this fantastic app-based e-wallet? Well, keep on reading and we will answer all the questions you can think of.
For its relatively short history, this mobile payment application has earned the trust of plenty of online sportsbooks and regulatory bodies and is officially approved in more than 180 countries. The company has offices in 7 countries, provides its services in 17 different languages, and constantly adds innovative solutions to its portfolio. Through its Brand Ambassador and Sponsorship programs, MuchBetter supports both experienced professionals like the poker pro & coach Felix Schneiders and emerging sports stars like Jed Etchells and Connor Lynch.
MuchBetter – Overall User Experience
There are so many things we want to tell you about MuchBetter that we wonder where to start. First of all, to use any of the functionalities of the e-wallet you need to have a smartphone and download the dedicated mobile app either from the App Store or Google Play. If you plan to use your iPhone, iPad, or iPod Touch make sure the version of its operating system is 12.0 or later. The requirement for Android devices is to be of a 7.0 and up version.
As with most other digital wallets, you need to set up an account with the service provider and fund your balance. Deposit methods vary from one country to another and comprise debit/credit cards, bank transfers, e-wallets, local banking services, cryptocurrencies, etc. Keep in mind that if you choose to enter some money into your MuchBetter account using a bank card, you need to specify if the transaction has been made for gambling or non-gambling purposes.
Those punters who decide to use MuchBetter will find out that they can enjoy the highest possible level of anonymity. The wallet acts as an intermediary between them and the online bookmaker, so bettors do not have to reveal any personal banking information.
Registering an Account with MuchBetter
The MuchBetter sign-up process is not knotty at all and if you follow the simple steps, you will become a registered user in no more than a few minutes. The payment platform gives its future users the opportunity to choose from a personal and business account.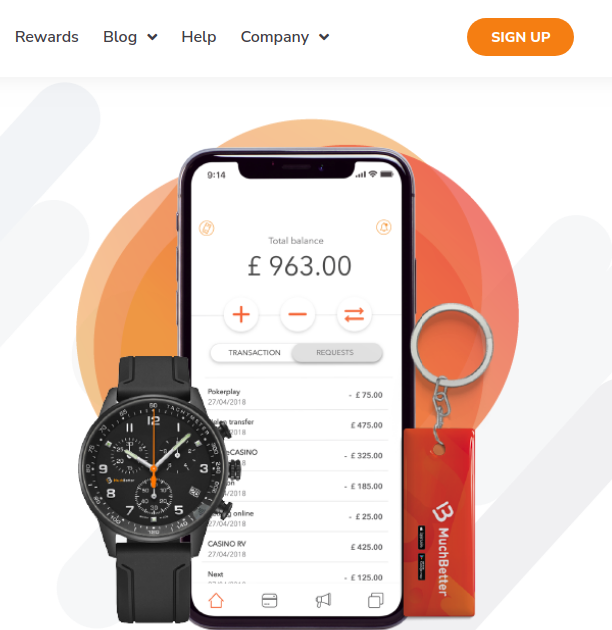 We must say that although this is an app-based payment solution, you can make the registration from your desktop computer and then move to using your smartphone. Of course, users can download the application and then proceed to set up their accounts. First, go to the MuchBetter company website and click or tap on the SignUp button located in the top menu.
A registration form will show up where you have to enter your mobile phone number, name, email, date of birth, and postal address. You must also create a secure 4-digit code and select your preferred currency. MuchBetter allows its users to choose between GBP, EUR, and USD. In the upper section of the form, the service provider has summarized the three main steps – Sign up, Verify, Download the app.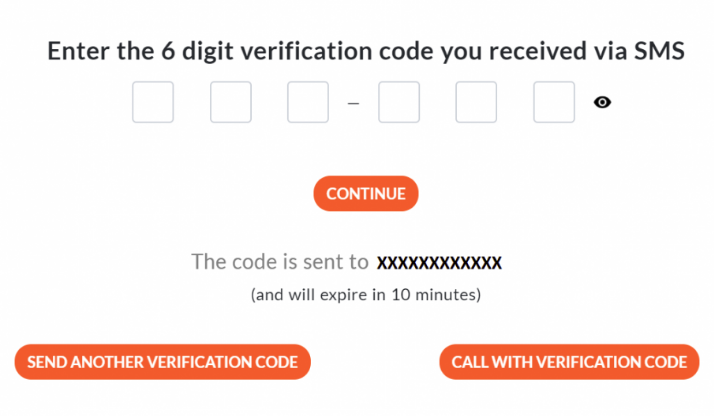 After pressing the Get a MuchBetter Account button you will receive an SMS that contains a 6-digit verification code that you have to enter. Do not waste your time since the code is just temporarily available. If more than 10 minutes pass before you fill it in, you must request a new one. If you perform the registration procedure from your PC, you will receive another SMS providing you with a link to download the dedicated mobile application. To log in, users must provide their mobile number and the 4-digit security code.
Registration Requirements
Copy of ID/DL
no
Utility Bill
no
Link bank account
no
Link bank card
no
Depositing with MuchBetter
The MuchBetter payment app enjoys a massive user base since it provides for immediate and secure deposits to online sportsbook accounts. What is more, funds coming from MuchBetter accounts are transferred without any transaction fees and in most cases can be used for participation in the bookies' promotional offers.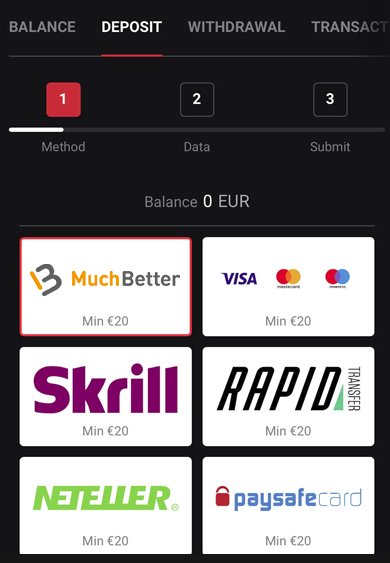 To top up their betting balance via MuchBetter, punters must log in to their sportsbook account and go to the cashier section. Once the deposit sector is localized, they need to look for MuchBetter within the e-wallets category and press the relevant logo.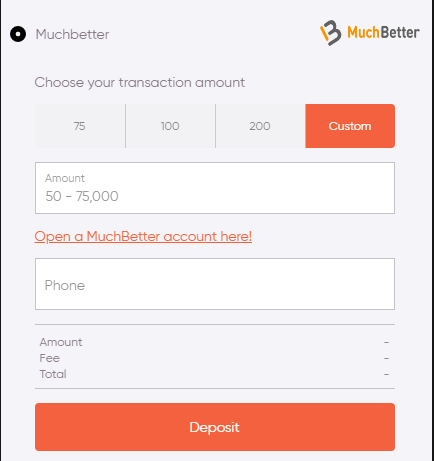 In the next step bettors must specify the amount they wish to deposit and enter their mobile number. After logging into the e-wallet account, users are able to verify the transaction details and in case of sufficient funds, approve the transaction. As you see, the deposit process is user-friendly and does not require sharing any sensitive information with the bookie.
When you confirm the deposit transaction, you can go back to the sportsbook and start wagering right away since the transferred amount is already in your betting balance waiting for you. Do not worry if you have requested a deposit that exceeds the sum available in your e-wallet. Just make a top-up by any of the methods you have at your disposal and then approve the pending transaction.
As regards the limits of the amounts you can fund your sports betting balance with, they are not fixed and depend on the bookmaker's financial policy. The minimum deposit amount is usually either €10 or €20. In terms of the maximum deposit limits, MuchBetter ranks somewhere in the middle among payment methods with amounts reaching up to €15,000.
Depositing with MuchBetter Summary
Timeframe
Instant
Minimum per transaction
€10
Maximum per transaction
€15,000
Fees
Free
Available currencies
GBP, EUR, and USD
Withdrawing with MuchBetter
One of the annoying issues some punters face is their preferred payment method not to allow withdrawals or the online bookmaker not to accept such. If you choose MuchBetter for your sports betting activity, however, you won't have to cope with this inconvenience since the service is perfectly fit for cashing out your winnings.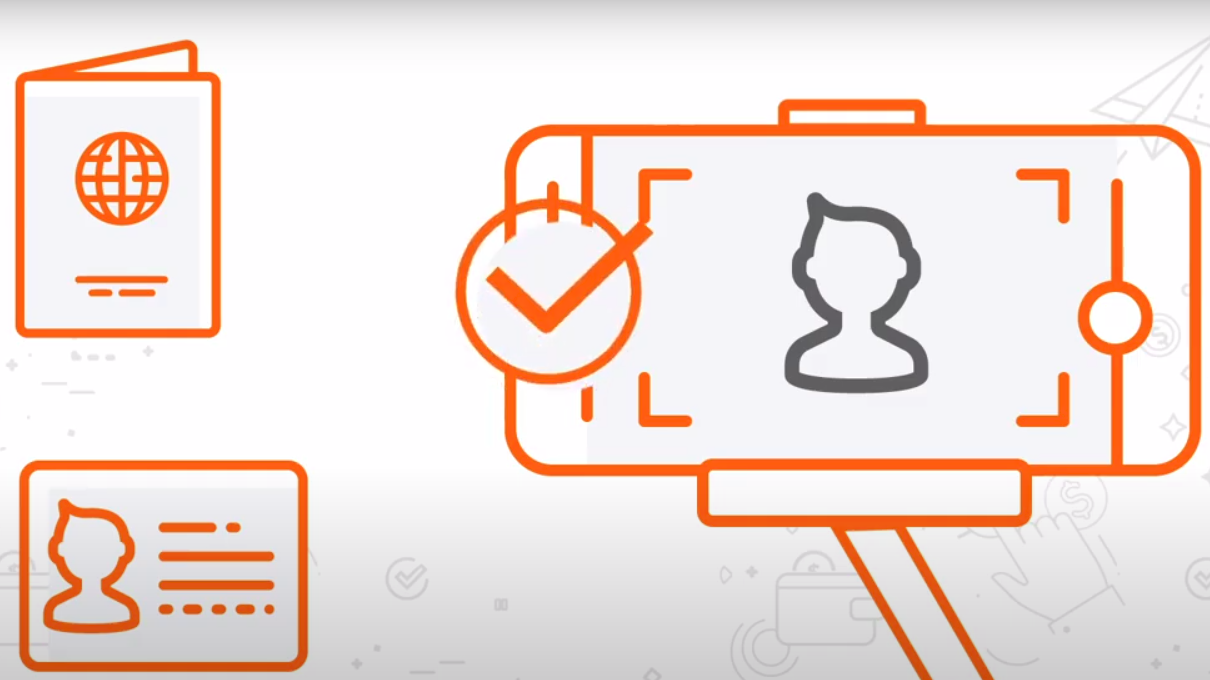 To be able to execute withdrawals to your e-wallet balance and also to enjoy greater transaction limits, you must have your MuchBetter account fully verified. The procedure can be performed either right after the registration or at any subsequent moment. In order to verify your identity, you must send the service provider a picture of an ID document (a passport, a driver's license, or an identity card) and your selfie. Both photos are taken through the mobile app interface.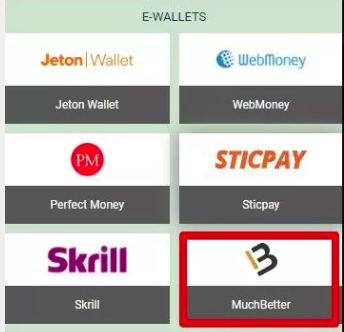 Once you have your MuchBetter account fully verified, you are free to initiate a withdrawal from your betting account to the e-wallet. To do that, you must go to the cashier section and select MuchBetter among the available digital wallets. After pressing the relevant button, a new window will open allowing you to indicate the amount you need to cash out. Then enter your phone number without zeros in the beginning and send the request to the online bookie.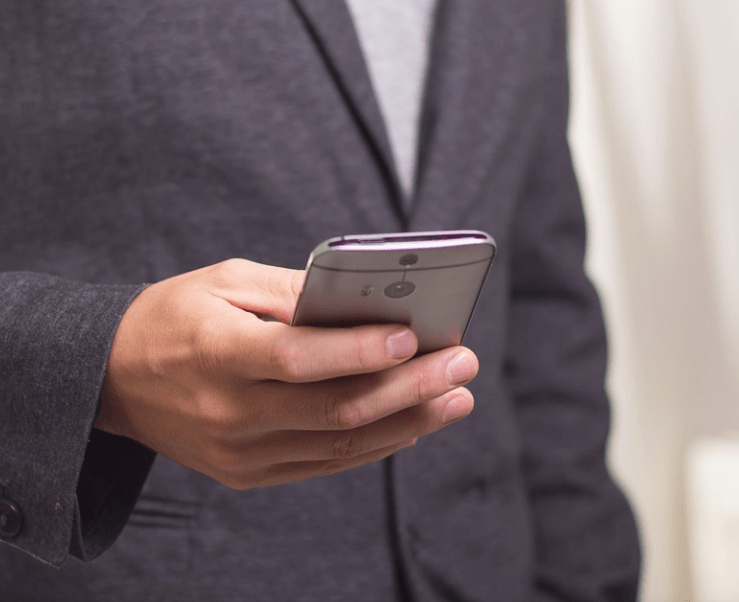 As is the case with most payment methods accepted by the sportsbooks, withdrawals are not as fast as deposits. Every bookmaker reserves some time to check if everything with the cash-out request is fair and legitimate. Usually, withdrawals via MuchBetter are processed in up to 48 hours. If everything is correct, funds will be transferred to the account balance of your digital wallet preceded by an SMS message.
Withdrawing with MuchBetter Summary
Timeframe
Up to 48 hours
Minimum per transaction
€10
Maximum per transaction
No specific requirements
Fees
Depend on the bookmaker's policy.
Available currencies
GBP, EUR, and USD
Fees Related to MuchBetter
What makes MuchBetter one of the most preferred payment methods in the online sports betting field is that there are no fees for performing transactions through one's account. This means you won't be charged if you transfer or receive money, deposit to an online sportsbook, or transfer your winnings to your MuchBetter account as well as request money from a friend.
MuchBetter provides its users with the opportunity to fund their accounts via multiple payment solutions, including but not limited to Cards, Cash, SEPA bank transfer, Astropay, iDeal, and Sofort. Most of these come with different transaction fees of up to 10%.
Fees for Funding MuchBetter Accounts
Astropay, Banco
6%
Bancontact
1.8%
Bank transfer, Cards
0 – 5%
Bradesco
7%
Cash
0 – 10%
Cryptocurrencies, Safetypay
2%
EPS, iDEAL
0.99%
Interac e-Transfer, Interac Online
3.5%
Multibanco
1.5%
My Bank
1.2%
Sofort
0.99 – 5%
UnionPay
4%
Cash to merchant, Codigo Prepago MuchBetter, Giropay, JCB, MB Cash, Pay by bank app, Przelewy24, PIX, Ricarica MuchBetter
Free
The withdrawal methods are not that many but still, users have enough options to choose from. The most favorable cash-out solution is Interac e-Transfer as it does not lead to any additional charges. At the other extreme are cash withdrawals that have a fixed fee of 10%. If you have a MuchBetter card and use it at an ATM, you will be charged 0.99% for using the service. All other operations via the card have no fees attached to them.
Fees for Withdrawing from MuchBetter Accounts
Astropay, QIWI Wallet
3%
Bank transfer
0 – 5%
SEPA bank transfer
2.20%
Cash
10%
Cryptocurrencies
2%
Interac e-Transfer
Free
The only in-house charge you can face is in case the transaction requires currency conversion. The service provider has a fixed fee of 0.99% if the conversion is between any of the three supported currencies, GBP, EUR, and USD. However, if users request a conversion that involves another currency, they must preliminarily check the currency exchange rates as they are updated each day. Since Much Better is not a bureau de change in its essence, the company usually adds a margin to the mid-market exchange rate.
Benefits of Betting with MuchBetter
Easily operated transaction process

Being developed as a modern app-based digital wallet, MuchBetter puts user convenience at the forefront. The account registration takes only a few minutes, verification is also very fast, and contrary to other payment services, MuchBetter enables transactions in both directions, deposits and withdrawals.

High level of security

The company holds several reliable licenses, utilizes the latest encryption technology, and implements strict privacy protection measures, so punters

No sportsbook bonus restrictions

Online bookies strive to attract as many punters as possible by providing lucrative bonuses and promotions. Sign-up offers are sometimes restricted in terms of the payment method used for the initial bettor's deposit. Unlike popular e-wallet brands like Neteller and Skrill, MuchBetter usually does not fall within these restrictions and you can claim welcome bonuses without any problem.

Innovative contactless payment devices

Proof that MuchBetter is designed to provide maximum convenience to the modern user are the state-of-the-art contactless devices it has created. Customers can choose between a fancy key fob (available only within the EEA), a payment card, a STISS augmented glass watch, a paytech bottle, and even a payment smart shirt. MuchBetter's key fobs and payment cards were developed in collaboration with Matercard and provide all the features of a regular Mastercard device. All these enable a safe and rewarding way to execute your daily transactions.

A rewards program

Following the example of some top betting brands, MuchBetter stimulates the active usage of its products and services by an enticing rewards program. Users earn points for certain amounts paid to partner merchants and online bookies, depositing to MuchBetter accounts, sending money to friends, etc. Reward points qualify for the yearly MegaDraw as well as different giveaways. Users can win cash prizes, tickets to sports events, trips to Las Vegas, and some more pleasant treats.
Drawbacks of Betting with MuchBetter
The ideal payment method is yet to appear on the market. Although MuchBetter is a fantastic solution for executing transactions to and from your sports betting account, it has some downfalls that need to be evaluated before proceeding to use the service.
Only 3 supported currencies

Given the ambition of MuchBetter to be a global payment method particularly in the field of online gambling, the availability only of the GBP, EUR, and USD currencies is considered a noteworthy drawback. Customers who operate with another currency have to pay conversion fees each time they deposit or withdraw from their accounts, an inconvenience that many would prefer to avoid. Other e-wallet brands like Neteller and Skrill far surpass MuchBetter in this regard.

Some products are available only in the EEA

Despite being accepted in more than 180 throughout the world, MuchBetter offers some of its most attractive products only within the European Union. Customers based outside the EU cannot benefit from the likable key fob and the MuchBetter Mastercard.

Relatively low acceptance by online sportsbooks

Since MuchBetter is still considered a new player on the online payments scene, its availability in sportsbook cashier sections is yet to grow. There are not many bookmakers that currently accept payments through MuchBetter and the number of bookies, although slowly growing, is still not significant.
Regulation and Availability of MuchBetter
Established in 2016, MuchBetter is a globally approved payment solution that can be used by the residents of multiple countries. Each customer is allowed to hold only one account by default unless he gets an explicit approval by the payment service provider. Users are not allowed their personal MuchBetter accounts for business purposes. However, they can contact customer support and negotiate on this issue.
The availability of digital wallet is so wide that the company has specified only the regions where it is currently unavailable – Afghanistan, Bangladesh, Cameroon, Crimea, Cuba, Eritrea, Iran, Iraq, Libya, Myanmar, Niger, North Korea, Sierra Leone, Somalia, South Sudan, Sudan, Syria, the United States of America, Vanuatu, Venezuela, and Yemen. So, if you are not located in one of the above countries, you are free to set up an account and start using MuchBetter.
Interestingly enough, the payment solution company has published three separate T&C texts – for Germany and Malta, for the EEA (excluding Germany and Malta), and for the UK and rest of the world. A great part of the information is all the same but there are some specifics too.
MuchBetter is a member of the Electronic Money Association. The iGaming-friendly digital wallet is managed by MIR Limited UK Ltd. with headquarters in London. In its capacity of Electronic Money Institution (EMI) the company's operation is regulated by the UK Financial Conduct Authority (FCA) and also holds a license by the Romanian National Office for Gambling (NOG). The brand is a licensed agent of PayrNet UAB whose operation is regulated by the Bank of Lithuania.
MuchBetter Security
We already mentioned the reputable regulatory entities that have checked MuchBetter's overall operation and have issued the relevant reliable certificates. We dwell on the issue once again because it is of the utmost importance to manage your funds via a legitimate payment service provider that implements strict security measures and protects your sensitive data.
MuchBetter has a lot to boast about in this regard. Being available as a downloadable application on your smartphone ensures that you can take advantage of innovative features like Touch ID and Face ID that additionally limit the access to your account. To guarantee that all transactions passing through the platform are fair and legitimate, MuchBetter has introduced device pairing, dynamic security codes, and a transition review system.
Furthermore, the brand has launched the first-ever dynamic CVV code. Yes right, these are the same 3 digits that you usually see on the back of your regular debit card. In the case of MuchBetter Mastercard, the CVV code is virtual, it is stored in your e-wallet account, and changes every time you use the card.
MuchBetter Security Summary
SSL
yes
Two-factor authentication
yes
Face ID
yes
Touch ID
yes
App/SMS Notifications
yes
MuchBetter Reviews from Around the Web
For more than a decade e-wallets have become one of the most used payment methods that enable sending and receiving money over the Internet. Due to the speedy transactions they provide for and the high level of anonymity, digital wallets are the top choice of numerous bettors around the world. Although still being a new brand, MuchBetter is accepted by a moderately increasing number of online sportsbooks.
If you have read all the above information about the features of MuchBetter and its main pros and cons, and still cannot decide whether this is your payment solution, we advise you to read some of the multiple published customer reviews. Another useful source of information are expert analyses exploring MuchBetter and its suitability for transferring funds to and from betting accounts.
Currently, almost 2,500 users of Trustpilot have expressed their opinions about MuchBetter based on their experience with the payment app. The average score of the e-wallet is 3 out of 5 stars.
Negative MuchBetter Reviews
What is interesting about the customer reviews about MuchBetter is that they are very polar and we cannot say that most of the users rate the payment solution as good or bad. According to Trustpilot's rating, 44% of them have qualified the e-wallet as Bad but the number of Excellent marks is not that far away – 37%.
Most of the negative reviews are given by customers who had difficulties contacting the customer care team or are dissatisfied by the reply they have received. A lot of users, especially in the last month or two, have received "oops error message" without further explanation. There are also complaints about unduly cumbersome verification procedures requiring the provision of ID documents. Some customers report unexpectedly closed accounts with their money locked with no possibility to be withdrawn.
Positive MuchBetter Reviews
As we explained, the number of users giving an Excellent rating to MuchBetter is not so significantly less than the ones who think it is a poor payment service. Most of the positive reviews are related to customer support. Some users tell about different problems and how they were solved in a quick and professional manner. Several cases are reported where MuchBetter has helped its users to solve disputes with merchants who have received a payment but have not sent the relevant product. In addition, customers express their satisfaction with the ease which they use the payment application with.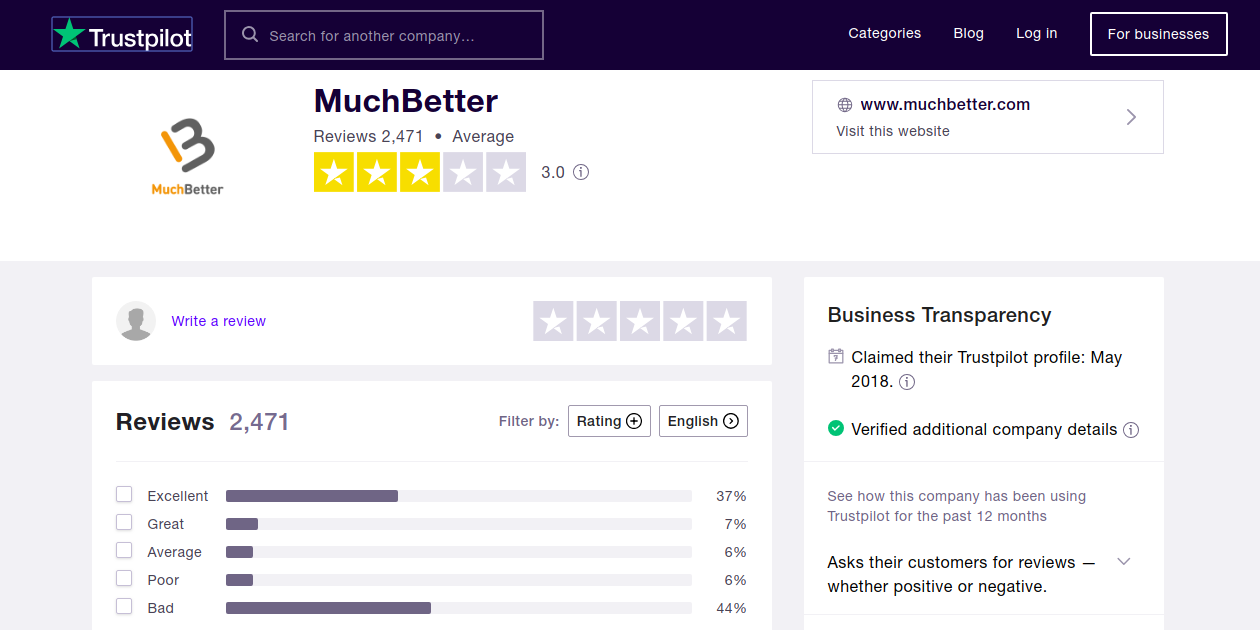 Trustpilot Rating of MuchBetter
Excellent
37%
Great
7%
Average
6%
Poor
6%
Bad
44%
Conclusion
Thanks to the online betting approach of its development, the high level of security, and the impressive availability throughout the world, MuchBetter has all the prerequisites of becoming one of the top payment solutions used by punters. Some major betting brands still have not included the service in their selection of accepted payment methods, but this will most probably change in the upcoming years.
For the short period of its existence, this e-wallet provider has won several reputable awards – Best Mobile Initiative, Innovation in Payment Solutions, Best Innovator in Payments, Mobile Payment Solution of the Year, etc. So, the beginning is more than promising, it remains to be seen how the company will use its great potential.